Cobra Kai Season 4 - The Loop
Play Sound
Verity Hutchinson is the daughter of Edward Hutchinson and the late Charlotte Hutchinson, the sister of Eric Hutchinson, as well as the half-sister of Tony and Eva Hutchinson, and the adoptive-half-sister of Dominic Reilly.
Biography
[
]
2020: Arrival
[
]
Verity arrived in the village in January 2020 as a high powered lawyer from London, whom Sami Maalik's law firm wanted him to woo in order to convince her to join their company. When Verity arrived, she was touched when Sami's younger brother, Imran Maalik, placed his coat over a puddle so she could walk on it. She also took a liking to Sami and the pair flirted the whole night. Verity got her driver to take her and Sami around the village so Sami could give her a tour.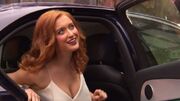 When Sami went to drop his ex-fiancée, Sinead Shelby's belongings off at her step-mother, Diane Hutchinson's flat, Verity was surprised to see Diane kissing her father, Edward Hutchinson. Verity soon worked out that Diane was Verity's half-brother, Tony Hutchinson's wife and agreed to keep their relationship secret.
Verity attended the winter ball at The Loft with Sami and the pair flirted the whole night. Verity told Sami of her achievements as a lawyer and asked Sami about his, to which he lied. Verity asked Sami to take her to his "bachelor pad", and was amused to learn that Sami had lied to try impress her, and lives with his step-mum, Misbah Maalik, to which she teased him over. The pair slept together, but when Sami awoke to see Verity using an inhaler and asked her what she was doing, Verity quickly ran off.
2020: Meeting Tony & Relationship with Sami
[
]
Verity was horrified to discover that Tony had been held captive by serial killer Breda McQueen for several months, and was in hospital after being stabbed by her. Verity was eager to meet Tony, but he was left disoriented. Edward advised Verity to give Tony some time to come to terms with being freed from Breda, his father's sudden return and the revelation that he had two siblings that he didn't know about. Verity decided to return to London, asking Edward to keep her updated on Tony's condition.
Verity later returned in March 2020, and was left horrified when a drunken Tony tried to kiss her at The Loft, unaware of their relation until Edward reminded him. Verity later accidentally let slip about what had happened at the club, and Diane was left furious. Verity tried to comfort Diane and convinced her that Tony didn't know who she was and that it was unlikely that he was being unfaithful to her. Edward prepared a dinner for Diane and Tony to help them reconcile, later revealing to Verity his intentions to try make Tony slip up so he could win Diane over. Verity asked if his mind could be changed, but he said that it couldn't.
Verity later bumped into Sami, who was still left smitten with her after their previous encounter. She teased Sami after overhearing him tell James Nightingale that he was struggling with a case. She told Sami that his defendant, a woman who had committed benefit fraud, had a case that was "dull" and was in a field below her, but made a bet that she could win the case. She later informed Sami that the woman's benefits claim was fraudulent from the beginning and therefore the woman was charged on the wrong offence, and that the DWP made a major error in the courtroom. After sharing a bottle of champagne with Sami and James as part of their bet, Sami privately tried to confront Verity over her inhaler, and offered to be a friend. Verity flirtatiously told him that they could never be friends.
2020-2021: Relationship Issues
[
]
Verity decided to leave her law firm and establish her own in Hollyoaks with James, with Sami convincing her to let him join. Sami suggested Donovan's Salon as their premises, and Verity made Jesse Donovan's sister, Grace Black, and widow, Courtney Campbell, an offer. Courtney, who had been left the salon by Jesse, agreed to the sale on the condition that Verity gave Maxine Kinsella a job, which Verity agreed. Not long afterwards, Verity opened Dee Valley Law, with James and Sami as partners. Verity also had a brief relationship with Kurt Benson, who left after being exposed for a scam in December 2020.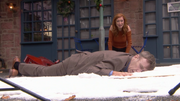 Verity later discovered that Edward had falsely diagnosed Tony with a brain tumour, faked the tumour removal surgery, was drugging him to make his behaviours erratic, and framed him for the attempted murder of Diane. Edward later kidnapped Diane and planned to kill her, but Verity hid in the car and the women confronted him. Edward revealed that Verity's law qualifications were fake, being the final straw in turning Verity against her formerly-beloved father. Edward died on Christmas Day 2020 after eating a poisoned mince pie intended for Tony. Verity had Edward cremated and tipped his ashes down the drain outside of The Dog in the Pond.
In January 2021, Diane discovered that she was pregnant but did not know if Edward or Tony was the baby's father. After Tony found the pregnancy test, Diane pleaded with Verity to pretend that she was pregnant, with Tony excitedly telling Sami. However, Sami's step-brother Shaq Qureshi learned that Verity wasn't pregnant which caused the pair to break up, but later reconcile. A few months later, Verity comforted Shaq as he attempted to find his biological parents, and the pair slept together. Sami learned the truth and the pair broke up again, with Sami eventually forgiving Verity but refusing to reconcile.
After Tony accepted a management job at The Dog in the Pond in October 2021, Verity moved with the Hutchinsons into 1 Stockton Lane. In November, Verity learned that cameras had been planted in the flat and she had been live-streamed without her knowledge.
Appendices
[
]
Residences
[
]
Employment History
[
]
Background Information
[
]
In September 2019, it was revealed that Tony Hutchinson's sister, whom he had no knowledge of, would arrive in the village alongside his long lost father. More specific details, such as character and casting information, were not revealed until December 2019.
Introduction Sequence
[
]
Quotes
[
]
"
That is so kind, Sir Walter.
"
See Also
[
]