We're Getting Mutants in the MCU - The Loop
Play Sound
Anthony Barnes "Tony" Hutchinson is a long-standing resident of Hollyoaks, having lived in the village since his birth in 1977.
Born to Victoria and Edward Hutchinson, Tony was raised as an only child and did not learn about his siblings until later in his life: learning that Dom Reilly was actually his brother and not cousin in September 2005, and learning of Verity and Eric Hutchinson through his father's second marriage in January 2020. Tony closely followed in the footsteps of his businessman father, embarking on several business ventures: initially running a video shop until its closure in 1998. Tony first found love in Julie Matthews, but the relationship did not last as Julie jilted him at the altar and left the village. A later relationship with Tessie Thompson saw the birth of his son Harry, which Tessie did not reveal until October 2007.
After a long-term relationship, Tony married his first wife, Mandy Richardson, on a whim in February 2005. Mandy discovered that she was pregnant in May and gave birth to a premature daughter, Grace, in October. Whilst Tony was delighted at being a father, Mandy struggled with post-natal depression - Tony's attempts to get Mandy to bond with Grace failed, and Mandy and Grace only bonded following the death of another premature baby on the ward. Grace died from SIDS in May 2006, driving Tony and Mandy apart. They split after Mandy had an affair with Dom and decided to leave the village.
After a failed relationship with Jacqui McQueen, Tony began dating Cindy Cunningham and the pair were quickly engaged and married. This marriage also ended in divorce when Tony discovered Cindy's affair with Darren Osborne. History repeated itself in 2012 as the pair reconciled and married again, but Tony divorced Cindy after learning of her affair with Rhys Ashworth, who was killed when a bus crashed through the wedding hall.
In 2013, Tony reconciled with childhood sweetheart Diane Drinkwell, who fell pregnant with twins by Tony - a son and a daughter. After learning that their daughter had been switched with the daughter of Tegan Lomax by a drunk midwife, Tony and Diane raised their children closely with Tegan. An affair with Diane's step-daughter Sinead O'Connor lead to Diane marrying Tony to divorce him in November 2014, but Tony won her back and the pair have remained married since. After being kidnapped by Breda McQueen, Diane began a relationship with Tony's father (who was going by his middle name, Edward), and discovered that she was pregnant following Edward's death. After reconciling with Diane following his release, Tony agreed to father baby Eva, despite Edward being the biological father.
Biography
[
]
1995-1997: Relationship with Julie
[
]
Tony met Julie Matthews, the friend of Ollie Benson - who was the brother of Tony's best friend, Kurt - in October 1995. The pair started a relationship and lost their virginity to each other. Tony later proposed to Julie in April 1996, but she rejected. Tony later believed that Julie was being unfaithful, and slept with Maria along with 10 other women whilst holidaying in Ibiza. After an HIV scare, Tony discovered that he had got the wrong end of the stick about Julie and realised that he wanted to be with her.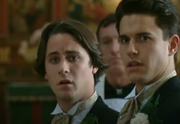 Tony decided to leave the village, fearing that his relationship with Julie was not going to work out - writing letters to his friends, family and Julie. As he pulled up by a lake, he kissed the ring that he intended to propose with, but a man knocked on the window and Tony accidentally swallowed the ring. Tony's friends visited him in hospital and relayed to Julie what Tony had said. The pair later got engaged.
Tony began to have second thoughts on the day of the wedding in August 1997, but he and his friends put them down to nerves. However, Julie also had second thoughts, and fled whilst walking down the aisle. Tony was shocked that he had been jilted, but was immediately relieved and he and his friends were overjoyed.
1997-1998: Relationships with Tessie & Jas
[
]
After Julie left the village, Tony met Tessie Thompson and began a relationship with her and two other women. Tony and Tessie later slept together, and a few weeks later in March 1998, Tessie told Tony that she was pregnant. However, Tony later discovered that Tessie was not pregnant and she had been attempting to scam him, and Tessie left the village in shame.
Later in 1998, Tony began a relationship with Jasmine Bates. Early on in their relationship, Tony believed that Jas was secretly a sex worker, but she revealed that she was a personal trainer who helped people from home. They eventually split up not long after.
1998-1999: Feud with Finn
[
]
In June 1998, Jambo Bolton's friend Finn moved to the village. Finn, a vagrant, started living in Jambo's shed. Tony quickly took a disliking to him and even more so when Finn purchased a double-decker bus. Tony planned to report Finn for driving the bus without a licence, but Finn crashed the bus into the shed.
Tony later had to close his video rental store when a movie theatre opened nearby and proved to be more popular. Finn purchased most of Tony's remaining stock, and Tony was fuming when Finn was able to sell them.
1999-2000: Hawthorn's Return
[
]
In September 1999, Tony and his friends were informed by Lucy Benson that Kurt had been killed in a jet ski accident. At Kurt's funeral, Lucy was kidnapped by Rob Hawthorn, who was thought to have drowned following a fight with Kurt in October 1998. Rob left clues for Tony, Lewis Richardson and Ruth Osborne to find him and Lucy, leading them to a nautical test facility where he took them hostage. In the heat of the moment, Tony told Lucy of his feelings for her. Despite attempting to drown them all, Lewis and Tony found an escape hatch at the bottom of the tank and Tony held it open as he and his friends were thrown into River Dee. An ill Lucy had fallen unconscious but Tony successfully revived her. The pair later began a relationship.
Rob successfully destroyed all evidence suggesting that he was behind the plot, and moved to the village to further terrorise Kurt's friends in plain sight. Tony and his friends attempted to warn the Morgan family when Rob began a relationship with Beth Morgan, but all refused to believe that Rob was evil.
On Millenium Eve, Rob managed to sneak onto the top floor of Finn's bus, where a New Year's party was being held. He doused the upper floor in petrol but accidentally dropped the match, setting himself alight. The partygoers - including Tony - were able to escape the bus moments before it exploded, leaving them with only minor injuries.
After confirmation that Rob had actually been killed in the explosion, Lucy decided that she wanted to go travelling around the world. Tony decided to accompany her, but ultimately changed his mind after researching tropical diseases. He took Lucy to the airport where they said their goodbyes before she left for Mexico.
2000-2001: Victoria's Arrival
[
]
In March 2000, Tony's mother Victoria informed him that she was separating from his father, Brian. Tony was furious as she told him that she found Brian too boring and needed more excitement, and Brian confirmed the news.
Tony was further furious when he realised that Finn's mystery older girlfriend was Victoria, which ultimately reignited their feud. Tony attempted to meddle in their relationship, but most of his efforts backfired as Victoria ended up moving in with Finn. The pair were later engaged and they married in December 2000 to Tony's chagrin, but Tony eventually realised that he could not prevent them from being together. Their marriage ended in divorce as Finn was unfaithful and Victoria left in June 2001, but Tony eventually forgave Finn. The pair even opened a restaurant in September 2001, but the building was destroyed in an explosion not long after establishment.
During this period, Tony also began a rivalry with Gordon Cunningham over the sale of 10 and 12 Hingham Road. In order to sabotage Tony's purchase of the houses, Mr. C hid at the back of the auction hall and continued to bid to raise the price. Tony soon spotted Mr. C who fled with his step-daughter, Mandy Richardson, as a getaway driver (as she had nagged him into taking her for a driving lesson), and the pair were able to flee as Tony was asked to stay behind to give his details to the auctioneer. Tony converted the property into student flats and a group of students moved in in later in the year.
In October 2000, Tony found himself in legal trouble after Ben Davies and Cindy Cunningham took his car to get to the airport, so Cindy could flee from social services. However, Cindy accidentally ran over Anna Green and fled, with Tony being accused. Ben, despite feeling guilty, refused to correct the police and all charges were dropped against Tony due to lack of evidence.
Tony also began a short relationship with Carol Groves. She left in October 2000 to work on a cruise ship, believing that her destiny "lay in the hands of a man wearing white". She promised to return for Tony, but sent Tony a letter in January 2001 informing him that she had changed her mind.
After the death of Lewis in October 2001, Ruth (Lewis's girlfriend) found comfort in Tony and the pair slept together. However, Ruth decided to accept a job offer in London in November and the pair split as Tony wanted to remain in Hollyoaks.
2001-2002: Double Proposal
[
]
Living in his student flats alongside his student flats, Tony fell for Izzy Cornwell and the pair started a subtle and slow relationship, with Izzy occasionally helping with running The Loft, which Tony bought after Lewis's death and ran solely after Finn's departure in January 2002. In September 2002, Julie returned to the village as an investor in Tony's new restaurant, Gnosh Village, leaving Izzy jealous. Tony struggled to fight his feelings for Julie and the pair began an affair, ignited especially after Izzy accidentally locked Tony in the freezer with Julie.
After sleeping with Julie on the floor of the restaurant's kitchen, Tony found him saying yes when Julie asked him to marry her. Upon arriving home, Izzy presented him with an engagement ring and also proposed, which Tony agreed to as well! Tony struggled to keep his fiancées from knowing about the engagements, but this failed and Izzy left Tony whilst Julie revealed that she was scamming him to get money for her boyfriend, who was serving a prison sentence.
2002-2005: Relationship with Mandy
[
]
After his break-ups, Tony began an affair with Helen Cunningham - the wife of Mr. C. However, the affair did not last long as Max Cunningham learned of the affair in March 2003, for which he viciously attacked Tony. Despite keeping quiet, an earthquake in April destroyed the boat which Helen and Tony were on, subsequently exposing their affair publicly.
Despite the affair, Helen's daughter, Mandy, fell for Tony and he reciprocated their feelings. Max was left further enraged, especially as he was also in love with Mandy, and started a hate campaign against Tony. Mandy firmly stood by Tony throughout the hate campaign, which isolated Mandy from Max, resulting in him deciding to give up on the campaign.
In December 2003, Ruth returned and informed Tony that she had fallen pregnant by him after they had slept together, but she miscarried. Despite their past, Ruth remained simply friends with Mandy and Tony until her departure.
Tony stood by Mandy after her mother and step-father were killed in a car accident. Mandy was given custody of Tom Cunningham in Mr. C's will, but allowed Max to take care of him as she struggled to do so herself. She later discovered that she was pregnant, but struggled when she miscarried and began taking her built-up anger out on Tony. After weeks of physical violence, Tony was forced to hit Mandy in self-defence and was arrested. Mandy, fearing that she was turning into her abusive father, told the police that she was hitting Tony and Tony helped her get councilling. However, the pair drifted apart and Tony left for Rome in February 2005.
Tony began to settle in Rome and ultimately decided that he wanted to stay. A sudden appearance from Mandy made him realise that he was still in love with her, and the pair returned to the village as husband and wife. Mandy's younger brother, Tom, moved in with Tony after Tom accidentally burnt down the house with fireworks. In May 2005, Mandy discovered that she was pregnant and Tony fussed over her and the baby, ensuring that she was eating healthily and refused to let her over-work. Tony had re-purchased and revamped The Loft, recruiting Max and O.B. to manage the business so Tony could help Mandy with the baby. Tony also opened a second restaurant, Il Gnosh, in June 2005.
2005-2006: Family Revelations and Heartbreak
[
]
In September 2005, Tony's cousin Dominic Reilly arrived to see Tony and Mandy, with the pair not having seen each other since Christmas Day 1987. He revealed that he had seen his birth certificate which revealed that Tony and Dominic were not cousins, but brothers! Tony initially rejected Dom and confronted his mother, who revealed that Dom was telling the truth and that she had an affair in 1978 and gave Dom to her sister to raise. Tony eventually came to the idea of having a brother and reconciled with Dom.
On the night of the grand re-opening of The Loft in October 2005, Mandy went into premature labour and gave birth to a daughter. Shortly afterwards, Tony was found to have contracted chicken pox and was quarantined, therefore unable to see his daughter at first. Mandy also struggled with post-natal depression, fearing that the baby could die - which Tony was oblivious to. Dom eventually worked out that Mandy was intentionally distancing herself from the baby after speaking to a mother, Gemma, who said that she had never seen Mandy. After the death of Gemma's baby, Daisy, Mandy quickly attached herself to the baby, and her and Tony eventually settled on naming the baby Grace.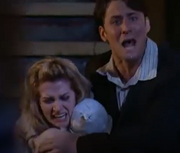 In May 2006, Tony took Mandy to a fancy restaurant, leaving Grace in the care of Nancy Hayton and Hannah Ashworth. Upon returning home, Mandy discovered Grace in her cot not breathing and Tony phoned for an ambulance. However, despite the paramedics best attempts, Grace was pronounced dead. The death of their child drove a wedge between Tony and Mandy, who became distant towards each other. Dom tried his best to comfort Mandy, causing an affair to start between the pair. Mandy later went missing, with Tony calling the police and even identifying a body before Mandy returned to say goodbye to Dom. Dom informed Tony, who attempted to convince Mandy to stay, but Mandy was insistent that leaving the village was how she could move forward and she and Tony said a tearful goodbye.
2007-2008: Relationship with Jacqui
[
]
After saying a final goodbye to Mandy at the funeral of Becca Dean in February 2007, Tony decided to move on and fell for Jacqui McQueen. However, the pair had to keep the relationship a secret as Jacqui had been forced to marry Albanian immigrant Aleksander Malota by Davey Thomas. Alek fell in love with Jacqui's sister, Carmel McQueen, allowing her to continue her relationship with Tony. Tony eventually tired of Alek living with them and kicked him out in August 2007.
Jacqui discovered that she was pregnant, but the pregnancy resulted in miscarriage and she and Tony were devastated to learn that she would never be able to carry a baby to term. Adamant that Tony would not want her, Jacqui entered a downward spiral and was arrested for stealing from Drive 'n' Buy. Tony eventually convinced Jacqui that he did still love her, and the pair reconciled. The pair had decided to adopt a child, but Jacqui was told that she was ineligible due to her criminal record.
For Tony's 30th birthday, Jacqui's sister Tina Reilly decided to throw Tony a party and invited everyone on his contacts list - including Izzy, Julie and Tessie. Izzy and Jacqui immediately clashed due to jealousy on Jacqui's behalf, but the pair bonded over infertility; whilst Julie attempted to reconcile with Tony but was sent away. However, Tony was dealt his biggest blow as Tessie revealed that she had lied about her pregnancy in 1998 being a scam, and she had given birth to a son, Harry Thompson, in November 1998. Jacqui's jealousy over Tony now having a child whom he wanted to be a father to put a strain on their relationship, especially when Jacqui issued an ultimatum in which Tony chose Harry over her. The strain on their relationship lead to Tony having a one-night-stand with Jacqui's sister, Mercedes McQueen, who ended up having an abortion. Jacqui later came round to the idea of Tony having a son, to which Tony invited Harry to stay with them on several occasions.
Tony and Jacqui later began a quest to find a surrogate mother, to which Tina agreed to the anger of her husband - Tony's brother Dom. Against Dom's wishes, Tina inseminated herself with Tony's sperm, leading to Tina sleeping with Russ Owen when Dom rejected her. Tina later gave birth to a son in July 2008 who was named Max, but Tina decided that she could not give the baby to Tony and Jacqui. Russ was later revealed to be the father of the baby, therefore meaning that Tony and Jacqui had little chance of winning a custody battle.
The pair later split when Jacqui learned of Tony's affair with Mercedes. The bad feelings between the pair were greatly exacerbated when Tony had a one-night-stand with Jacqui's cousin, Theresa McQueen, who had lied about her age to Tony. The McQueen family began a hate campaign towards Tony, who faced a prison sentence especially due to the encouragement from Jacqui. Theresa eventually admitted to the truth and Tony received an apology from a guilty Jacqui. Although the apology started to reconcile the pair, Tony ended up reconciling with Mandy and left the village with her in December 2008.
2009-2010: Marriage to Cindy
[
]
Tony began a relationship with Cindy in 2009, unaware that Cindy was having an affair with Darren Osborne and was planning to use him for his money. Cindy ended up falling for Tony, but during a rough patch in their relationship, Cindy turned to Darren for comfort and Tony broke up with her. The pair eventually reconciled, and got engaged in August 2009 whilst joking about marriage.
In October 2009, Cindy and Tony prepared to marry, but a jealous Darren attempted to thwart their wedding plans; first asking Cindy not to marry him, then having Tony seduced by a woman and left on a farm in the middle of nowhere. Cindy later found Tony, who told Cindy that he had slept with another woman on the stag night, whilst Cindy told him about her plan to take his money. With everything out in the open, Cindy and Tony ended up marrying, even with Jacqui attempting to convince Tony to take her back.
Tony struggled to get along with his step-daughter, Holly Cunningham. Tony offered to send Holly to boarding school, to which Holly took to mean that Tony wanted her gone, so she began misbehaving. After witnessing Tony kiss Theresa on the cheek, Holly threatened to tell Cindy that Tony had been unfaithful, to which he exploded and Holly ran away from home. Tony did her best to comfort a distraught Cindy, but kept his outburst quiet until the police questioned him. With Cindy learning of what happened between the pair, an almighty strain was placed on their relationship and Cindy reignited her affair with Darren. With Holly and Tony going part-way to fixing Cindy and Tony's marriage, meeting Gabby Sharpe dealt the final blow and Tony decided that he wanted a divorce.
2010: Relationship with Gabby & Il Gnosh Fire
[
]
In June 2010, Tony went to North Wales in search of a property for himself and Cindy. Whilst viewing a property, Tony witnessed Gabby Sharpe walk into the path of an oncoming car and was struck. He took Gabby to the hospital and met her children, Taylor and Amber. Tony learned that Gabby was planning on leaving her husband, Phil, and had fallen for Tony. Tony ended up deciding to divorce Cindy to be with Gabby.
Phil was left enraged by Gabby's decision and nearly got violent with her, to which she took the children and moved in with Tony. With Taylor not minding living with Tony, Amber took the separation badly and misbehaved. However, Tony was attacked by Phil when Amber made up a lie about him, leaving Amber regretting her actions. In October 2010, Taylor discovered that Phil had a secret family and told Tony, who eventually told Gabby.
A mystery arsonist started a fire in Il Gnosh by putting a match through the letterbox. The fire spread to Tony's flat, in which Amy Barnes (who had been looking after Amber) was trapped inside, as well as Finn O'Connor and Amber - who had just discovered that she was pregnant. Tony was accused of starting the fire for the insurance, but after confronting Dom after finding pictures of Amber on his phone, learned that Dom had set fire to Il Gnosh. Dom revealed that he had been framed with the photos of Amber, so he had set fire to Il Gnosh to destroy the laptop and gain Tony's insurance money, having been convinced to do so by Warren Fox. Dom confessed to the crime and was arrested.
Repairing the damage to the flat and business below, Tony decided to open a spa instead of a restaurant, named Look Sharpe after Gabby. The spa was opened in January 2011, but the grand opening turned out to be a disaster when Suzanne Ashworth ended up going into labour and giving birth to twins. Gabby had left the village with her children, having discovered that Finn - whose mother Diane O'Connor had planned on adopting the baby - was the father.
2010-2011: Mandy's return
[
]
Mandy returned to the village in October 2010, with boyfriend Warren Fox (who had been presumed dead in a fire at The Loft in June 2009). Mandy was insistent on getting revenge on Tony for leaving her in Laos in December 2008, giving Warren the idea of convincing Dom to set fire to Il Gnosh.
Tony later sold the spa to Cindy, who renamed the business to Cinergy and employed Mandy. After being rejected by Gabby, Tony returned to Hollyoaks and reunited with Mandy. However, Mandy feared that she may go to prison for scamming Cindy and left the village, only leaving Tony a note informing him of her departure.
2012-2013: Reconciliation with Cindy
[
]
Following Mandy's departure, Tony ended up finding comfort in Cindy. After purchasing College Coffee, Tony hired Cindy to manage the business and also allowed her to move in after her excessive spending left her bankrupt. The pair ended up reconciling, although Cindy ended up initiating an affair with Rhys Ashworth. Believing that she was pregnant, Tony proposed to Cindy which she initially rejected before changing her mind and proposing to Tony, who accepted. In October 2012, Tony purchased Attwell's Health Club & Spa at an auction.
Shortly prior to the wedding, Tony was involved in a collision with a minibus which left him blinded. Upon his sight returning, he witnessed Rhys kissing Cindy, but Cindy was unaware that Tony had regained his sight. Planning to expose Cindy at the wedding, Tony visited Rhys and warned him to leave the village or he would tell Jacqui about the affair. Rhys agreed to leave the village, but Tony spotted Cindy agreeing to run away with Rhys. Shortly afterwards, the minibus (which had not yet been repaired, and had been stolen by Maddie Morrison, Ruby Button, Sinead O'Connor, Neil Cooper and Jono) crashed into the wedding venue. Rhys was killed in the disaster and Tony ended up aborting his plan.
On Christmas Day 2012, Jacqui learned of the affair and attacked Cindy with a garden gnome, leaving her hospitalised. Tony told Cindy that if she pressed charges against Jacqui, he would evict her and leave her homeless and jobless. He also told her that he could not forgive her, and wanted a divorce.
2013: Reconciliation with Jacqui
[
]
Rhys and Cindy's affair brought Jacqui and Tony closer together. Jacqui discovered that Tony knew of the affair before the bus crash and rejected him, but eventually changed her mind. Jacqui ended up getting a job with Trudy Ryan, with Tony becoming Trudy's target when Jacqui destroyed Trudy's vodka when it caused Phoebe McQueen to suffer a seizure. Mercedes was taken hostage by Clare Devine, and Tony realised that Jacqui had returned to working for Trudy against his wishes when she failed to return home on the night he planned to propose to her.
Jacqui managed to raise the £200,000 to free Mercedes, but gangster Trevor Royle learned of the situation and attempted to rob Jacqui. Tony managed to rescue Jacqui by smashing a plant pot over his head. Jacqui decided to flee the village in April 2013 in case Trevor came after her, refusing to let Tony come with her.
This section or article is a stub.
This section or article is a stub. You can help the Hollyoaks Wiki by
expanding it
.
Appendices
[
]
Residences
[
]
Employment history
[
]
Other Information
[
]
Tony has a permanent scar on his forehead, sustained after crashing his bicycle. (Episode 1600)
Background Information
[
]
Introduction Sequence
[
]
Quotes
[
]
"Just get rid of that! It's not exactly "stealth technology", is it?" - First line, to Kurt Benson about his motorbike.
---
"You know, there's nothing like a pull on your rod when a hungry one bites down on your bait."
See also
[
]
Gallery
[
]