We're Getting Mutants in the MCU - The Loop
Play Sound
Sylvester "Sylver" McQueen (né Peter) was the biological son of Harriet and Wes, the adopted brother of Goldie McQueen, the adopted son of Breda McQueen, and the long lost father of Cher McQueen.
Gentle giant Sylver had a poor childhood: an absent mother and abusive father who was murdered on Christmas Day 1986. Adopted by nanny Breda McQueen, Sylver later became an adoptive brother to Goldie, whom he protected against her violent father Vinnie. However, Sylver was accused of killing Vinnie in 2000 after pushing him over a balcony, and spent eighteen years in prison.
Sylver struggled to adapt to life after prison, especially after encountering his barrister, Simone Loveday. However, after a hate campaign against Sylver, the villagers soon came round to the idea of him residing in the village. Encountering cousin Mercedes McQueen (whom he had slept with in 1997), the pair eventually continued their relationship after the death of Russ Owen, and the pair married in 2019.
The marriage between Mercedes and Sylver struggled due to her drug usage and affairs - namely a long-term affair with Liam Donovan - which saw Sylver's usually hidden temper rise to the surface. After discovering that Breda was a serial killer whose victims included Wes and Vinnie, Sylver fatally stabbed her through the skull with knitting needles in Mercedes's defence.
Sylver was left stunned when he discovered that he was a father to Cher Winters, who had been conceived with a dental nurse whilst Sylver was in prison. Despite Cher's surname being changed to "McQueen", Cher struggled to fit in with the family, and vied for the attentions of Sylver by making Mercedes appear to be mentally unstable. Mercedes later confessed to having an affair with Cher's boyfriend Romeo Nightingale, so Cher ended up poisoning Mercedes's cocktails to frame her. However, Sylver drank several cocktails and ended up suffering a cardiac arrest, which left him comatose.
The family later reconciled and holidayed to Alicante, but Sylver planned to return as his marriage to Mercedes struggled. Sylver decided to leave but ultimately returned for his family, just as Salon de Thé de Marnie exploded with Mercedes and Cher inside. As he went in to rescue Mercedes's son Bobby Costello, he was crushed by a metal beam and died when the building collapsed, having been left to die by Bobby.
Biography
[
]
1983-2018: Early Life
[
]
Sylver was born in March 1983 to Harriet and Wes, originally named Peter. Wes was abusive towards Sylver emotionally and physically after Harriet walked out on them. Wes hired a nanny named Breda McQueen, who grew close to 'Peter'. On Christmas Day 1986, Wes threatened to give 'Peter' a beating, and Breda ended up fatally striking Wes with an angel ornament. Breda later adopted 'Peter', changing his name to Sylvester. Sylver grew up believing that Breda was his biological mother and Goldie McQueen - born in 1987 - was his biological sister. Sylver later met his cousin Mercedes McQueen, and the pair slept together one night in 1997.
Goldie's father and Breda's husband Vinnie was a violent drunk who was also abusive towards Breda, Sylver and Goldie. Sylver often attempted to protect Goldie from Vinnie, and ended up pushing him off a ledge in the farmhouse in 2000. Breda found an injured Vinnie and murdered him, but Sylver was accused of killing him and served an eighteen-year prison sentence.
2018: Arrival
[
]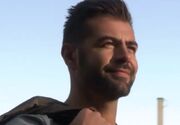 Sylver was released from prison in June 2018 to Breda's delight and Goldie's annoyance. Sylver moved in with the McQueens at 26 Leigh Road. He attempted to reconcile with Goldie, and she eventually came round after realising that Sylver had pushed Vinnie in self-defence. However, Sylver's presence proved to be controversial as Sally St. Claire was made uncomfortable by having an ex-convict living with the family, but matters were complicated when Sylver encountered his barrister Simone Loveday.
Sylver was hired at Savage's Emporium by Dirk Savage, but Simone's hate campaign against him took its toll and Sylver was fired after throwing a bicycle through the window of Price Slice. However, Simone later apologised to Sylver after speaking to Breda and Goldie, resolving tensions between the pair. However, the family problems continued as Mercedes returned from Los Angeles, having kidnapped Bobby Costello. With Bobby's grandfather (and legal guardian) Carl Costello desperate to get him back, Goldie was kidnapped. Sylver searched for Carl who later turned up dead.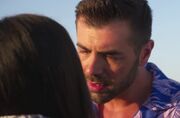 Sylver accompanied the McQueens on holiday to Ibiza where Sylver encountered Mercedes for the first time in 20 years, only to discover that she was newly-engaged to Russ Owen. Mercedes was left upset after discovering that Russ kissed Goldie and used to be a porn star and slept with Sylver, claiming that it was a one-off. Mercedes prepared to return to Ibiza after being accused of Carl's murder, but Sylver convinced her to stay. Mercedes and Sylver ended up igniting a full-blown affair. After discovering that Russ slept with Goldie and pressured her into an abortion, Sylver and Russ fought in Sylver's Workshop, with Russ later being found dead.
2018-2019: Feud with Liam
[
]
As Sylver comforted a widowed Mercedes, the pair grew closer and Sylver became a father figure to Mercedes's son Bobby and Russ's son Max Owen. However, unbeknowingst to Sylver, Mercedes ignited an affair with Liam Donovan. This resulted in a feud between Liam and Sylver as Liam enjoyed taunting an oblivious Sylver, with the feud exploding when Sylver was accidentally shot by Liam in February 2019. Sylver and Mercedes married in March, despite Mercedes's ongoing affair.
In May, Russ's sister Nicole had arrived to take Max to Greece at his and Breda's request. At the family dinner, Sylver was enraged to find cocaine in Mercedes's purse and she stormed off. However, Sylver did not pick up on Mercedes's sudden change in mood when she returned. A few months later, Nicole brought Max back to Hollyoaks to help him reconnect with the family. Sylver, Mercedes, Breda and Nana McQueen threw a party for Max, but Mercedes ended up getting high on cocaine and destroyed her relationship with Max. As Nicole took him back to Greece, Sylver realised that Mercedes was still using cocaine and threw her out of the flat. Sylver and Mercedes reconciled after Liam lied that he had not sold Mercedes any drugs, but Sylver struggled to trust her.
2019-2020: Shooting and Serial Killer Discovery
[
]
Sylver became concerned by Bobby's change in behaviour and even more so when he wet the bed, unaware that Bobby had caught Mercedes kissing Liam and was threatened into keeping quiet. Sylver also discovered that Liam (and supposedly solely Liam) had run over Grace Black and framed the now-deceased Harry Thompson, but comforted Liam after learning about Grace murdering his pregnant girlfriend.
At Harry's funeral in November 2019, Grace played a recording from Harry's phone revealing that Mercedes had run over Grace, left her to die, and threatened to kill Harry if he did not keep quiet. Sylver also learned of Mercedes's infidelity with Liam through the recording, and Brooke Hathaway revealed the next day that Mercedes had an abortion without knowing who the father was. Venting to Grace, the pair shared a kiss but Sylver became overwhelmed and asked Grace to leave. Later that night, Mercedes was shot in The Loft and left comatose, with Sylver igniting a relationship with Grace. When Mercedes awoke from the coma and learned of Sylver's new relationship with Grace, she told D.S. Cohen that Sylver had shot her. Sylver was arrested and charged, but released from prison after tricking Mercedes into changing her statement. Despite initially claiming to reunite with her upon his release, he declared that he would never forgive Mercedes and chose Grace.
In January 2020, Mercedes was arrested for several murders, but Sylver and Goldie realised that Breda was a serial killer after Lisa Loveday revealed that Breda's fiancé had Lisa's late father's ring. Goldie also formed a connection between the dolls the children of her victims received, and the pair went to Stone Mount Farm in search of Breda. The pair found Mercedes as well as the missing Tony Hutchinson, with Breda confessing to Sylver before shooting him with a bolt gun and setting fire to the farmhouse to kill them both. Mercedes burst in to rescue Sylver and Breda attempted to stab her with a piece of glass, but Sylver stabbed Breda through the skull with her knitting needles. Sylver struggled to come to terms with killing Breda, but ended up cooling down towards Mercedes.
2020-2021: Reconciliation with Mercedes and Secret Daughter
[
]
With Sylver closer to Mercedes and Bobby, Grace began to feel jealous. Sylver ended up reluctantly proposing to Grace after telling her that he would rather marry her than Mercedes, but their happiness was short-lived when Liam kidnapped Sylver, Mercedes, Grace, John Paul McQueen, Maxine Minniver and James Nightingale, and revealed that Grace and James shot Mercedes. The sextet managed to escape when Warren Fox burst in and Liam had a fatal fall down the cellar steps. Sylver ended his relationship with Grace but reconciled with Mercedes after she told the police that Liam shot her and that she had killed Liam in self-defence.
Sylver planned a secret vow renewal at The Dog in the Pond for himself and Mercedes, which nearly went without a hitch until a girl, Cher Winters, turned up claiming that Sylver was her father. Sylver met with his prison dentist Kelly, who revealed that Cher really was his daughter. Sylver ultimately decided that he wanted a relationship with Cher, allowing for her to move in when Kelly left for Greece. The pair bonded, but Cher developed a jealous streak with Mercedes.
In October 2020, Sylver, Mercedes and John Paul began receiving anonymous text messages before a talking doll was placed on the bar at The Dog in the Pond. The "doll" proceeded to blackmail the McQueens, with the doll recording Sylver and Mercedes discussing Breda's murder and sending it to the police. Upon being released, Sylver came clean to Cher, who revealed that she had accidentally killed her sister in a fit of jealous rage. Despite promising to keep her secret, Sylver ended up telling Mercedes. At the same time, Mercedes discovered that she was pregnant with her and Sylver's baby, but miscarried after discovering that Silas Blissett was the blackmailer and falling down the City Wall steps.
With Sylver and Mercedes struggling to come to terms with the miscarriage, Cher began to feel neglected as Sylver focused on a struggling Mercedes. A feud ignited between Mercedes and Cher after Mercedes publicly revealed that Cher had killed her sister, putting Sylver in the middle. Sylver often stood by Mercedes, causing Cher to take her anger out on Mercedes in extreme ways: sabotaging her marriage to Sylver, making her believe that she was ordering baby toys in her sleep and hearing noises, and that she kidnapped Eva Hutchinson. Sylver learned the truth about Cher's campaign against Mercedes, but forgave her after seeing how Cher and Mercedes were finally getting along.
2021-2022: Marital Issues and Death
[
]
The family's blissful period did not last long, as Mercedes confessed to having an affair with Cher's boyfriend Romeo Nightingale. Sylver attacked Romeo and hospitalised him, whilst Cher took her friend 'Jade''s advice and spiked Mercedes's punch to make her party-goers ill. Sylver ended up binge-drinking the punch and was left comatose after suffering a cardiac arrest, with Mercedes kicking Cher out upon learning the truth. Sylver regained consciousness a few days later and outrightly rejected both Mercedes and Cher. Sylver soon gave Mercedes another chance, but was cold towards Cher until he rescued her from a suicide attempt. Upon discovering that 'Jade' was actually Bobby, Sylver, Bobby and Mercedes went on holiday to Alicante.
The family returned two months later, in December, but the holiday proved to do more harm than good. Sylver was uncertain about the future of his marriage to Mercedes and looked into leaving her to move to Alicante alone. Sylver carried out his plan to leave Mercedes without telling her, but returned after receiving a message from Cher. Sylver managed to rescue Romeo from the explosion at Salon de Thé de Marnie (caused by Becky Quentin), but was crushed by a beam whilst attempting to rescue Bobby. Bobby left Sylver and lied to Mercedes that he did not see him, and Sylver was killed when the building exploded again and collapsed.
Kill Count
[
]
Murders
[
]
Breda McQueen, 7th January 2020 (Part II) - Stabbed through the skull with a pair of knitting needles whilst she was trying to kill Mercedes McQueen.
Attempted Murders
[
]
Breda McQueen, 7th January 2020 (Part II) - Attempted to strangle Breda but was stopped by Goldie McQueen.
Appendices
[
]
Residences
[
]
Employment history
[
]
This section is currently missing or incomplete.
This section is currently missing content, or is presently incomplete. You can help the Hollyoaks Wiki by
adding content
to this section.
Other Information
[
]
The amount of time Sylver served for Vinnie's murder was changed. Upon Sylver's release in June 2018, an article in The Chester Herald stated that Sylver spent 15 years in prison - meaning that he would have been imprisoned in 2003. However, in flashbacks to the murder in July 2019, the date was changed to 2000.
Background Information
[
]
Introduction Sequence
[
]
This section is currently missing or incomplete.
This section is currently missing content, or is presently incomplete. You can help the Hollyoaks Wiki by
adding content
to this section.
Quotes
[
]
"
"How do you find Goldie McQueen?" Look around the back of the bins.
"
---
---
"
Mercedes, everything's going to be okay... Bobby's on his way out now, he knows where I am, but... If anything happens to me while I'm waiting... I just... I want you to know that I...
"
See Also
[
]
Gallery
[
]