Wiki Targeted (Entertainment)
Play Sound

Summer Ranger is the daughter of Cormac Ranger, ex-fiancée of Brody Hudson (whom she jilted at the altar) and ex-girlfriend of Sienna Blake.
Summer arrived in Hollyoaks in November 2020 upon learning that Cormac had been left comatose after being attacked. Entering a relationship with Brody Hudson, Summer eventually learned of the events leading to Cormac's attack and became hellbent on revenge.
Summer's plan encountered several complications: first an unexpected romance with Brody's ex-girlfriend Sienna Blake, and Sienna's sister Liberty Savage learning of the affair. Despite this, Summer managed to convince the police and most of the villagers that Liberty - who Summer had kidnapped - had been murdered by Brody. Sienna failed to believe that Liberty was dead, and conspired against Summer.
Summer worked out that Sienna was working against her, drugged her and planned to kill Brody in Warren's Wheels. However, Liberty (who had been freed by Cindy Cunningham) found Summer and Sienna in the garage and shot Summer. Checking to see if she was alive, Damon Kinsella discovered that Summer had gone missing...
Biography
[
]
2020-2021: Arrival
[
]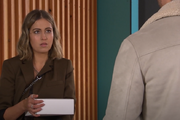 Summer met Brody Hudson outside Dee Valley University Hospital when he accidentally hit her with the door, causing her to drop the cupcakes that she had made. She told Brody that her father was in a coma, and she had brought cupcakes as she was expecting him to wake soon. However, Brody later found her upset as her father had made no progress. She revealed that her father was Cormac Ranger, to the horror of Brody, who had been involved in the attack that had left Cormac comatose, along with Warren Fox and Felix Westwood (the latter having been racially abused by Cormac whilst living at the care home Cormac worked at).
Telling Brody about her father, Summer was clearly oblivious to Cormac's true abusive nature. Summer told him that with Cormac in hospital, she would struggle to earn an income, so a guilty Brody paid a month-worth of rent for Summer to establish a cupcake stall at Cunningham's Grande Bazaar. Summer settled in well with the villagers, making friends with Sweater Thunberg stallholder Ripley Lennox. Needing extra funds to help her father, Summer planned to ask people who had resided at the care home Cormac had worked out, and a panicked Brody offered to give her extra financial help.
Summer later met Warren, unaware of his identity as Brody attempted to separate them as quickly as possible. Believing that Brody was jealous of her getting along with Warren, Summer kissed Brody to his horror as he was dating to Sienna Blake. Summer later met Grace Black, who she would later move in with as a roommate. Grace left Summer stunned when she mentioned Warren by his full name, remembering that a Warren Fox was Cormac's favourite care home resident. Summer confronted Warren over her father's attack, and a panicked Warren told her about his affair with Sienna in an attempt to throw her off the scent.
2021: Death of Cormac & Revenge
[
]
Gossiping to Grace about Warren and Sienna's affair, Grace convinced Summer to obtain evidence to prove that the affair happened. Finding Sienna and Warren in Warren's Wheels, Summer managed to get a photograph of the pair kissing and mailed it to Brody. Sienna managed to intercept the letter, but Warren later posted the photo in order to split Sienna and Brody. As Warren used Summer's phone to post the photo, Summer was initially accused of doing so. Sienna visited Brody at The Love Boat, only to find Summer wearing Brody's shirt. Summer told Sienna that she had slept with Brody, when in fact he lent her his shirt after she spilled wine on herself. However, Sienna's accusations pushed Summer and Brody closer together, with the pair sleeping together and Brody later deciding to take Summer out on a date.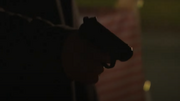 Summer soon learned of the true events behind Cormac's attack, including Brody's involvement, but refused to believe that Cormac was racially abusive towards a young Felix. She later received a call from Misbah Maalik, who informed her that Cormac suffered a heart attack and died. Distraught, Summer found Grace's gun and attempted to shoot Brody outside Price Slice, but ended up accidentally shooting Sienna as she emerged from the nearby alleyway. Summer managed to convince Sienna that she did not shoot her, instead framing Warren whilst the police believed that her shooting was down to county lines drug dealers.
Convincing Brody that she wanted a reconciliation, Summer also began playing mind-games with Sienna. Breaking into Sienna's house and stealing a chisel, Sienna called the police only to find that the chisel had returned. Whilst seductingly teasing Sienna, the pair kissed in the heat of the moment. Despite Sienna's uncertainty about her feelings for Summer, the pair ignited an affair. Summer began to twist things to make Brody think that Sienna was obsessed with her, with Brody believing her version of events when he found Sienna hiding in the Hollyoaks High School hall, having almost walked in on Sienna and Summer sleeping together. As the affair continued, Sienna tried to push Summer to choose between her and Brody.
2021: Destroying Brody & Escape
[
]
After receiving a job offer in Manchester, Summer told Brody that she would not move with him and left him with an ultimatum. Brody ended up choosing Summer, proposing marriage to her which Summer joyously accepted. The engagement put a strain on her relationship with Sienna, especially when Sienna learned of Summer's plan to destroy Brody on the wedding day. Summer planned to have Buster Smith, Damon Kinsella's father who sexually abused Brody, walk her down the aisle.
Shortly afterwards, things began to go wrong for Summer. Sienna's half-sister Liberty Savage learned of the affair and planned to tell Brody, so Summer beat her unconscious and held her captive in her storeroom. Brody decided to postpone the wedding due to Liberty's disappearance, but Summer managed to change his mind. However, on the wedding day, Buster failed to turn up so Summer revealed that she had been having an affair with Sienna before running out of the venue.
Finding Liberty's blood-stained headband, Summer decided to frame Brody for Liberty's supposed 'murder' by planting it under his mattress and calling the police. She also forced Liberty to write a letter to Brody, saying that she had decided to apply for full custody for their daughter as to give Brody a motive. Liberty eventually managed to escape, running through the woods. Arming herself with a stick to hit Summer, Liberty ended up striking Leah Barnes to which Summer told her that she was dead and convinced Liberty to return to the storeroom. Meanwhile, Sienna had doubts about Brody's involvement in Liberty's 'murder', but Summer managed to temporarily convince her by staging having been assaulted by Brody. This also convinced Sienna to continue their relationship, something she had been uncertain about due to everything that had happened.
With Summer planning to give Ste Hay a cake, Liberty snuck a letter with "RIP Leah" written on it in the box. A furious Ste showed Sienna the card, to which she recognised Liberty's handwriting. Sienna, Brody and Damon all realised that Summer had taken Liberty and planned to rescue her, which Summer discovered. Damon managed to track Liberty down to the storeroom, but Summer pulled a gun on him and took him hostage. Meeting Sienna at 3 Oakdale Drive for a picnic, Summer spiked her and held her hostage in Warren's Wheels. Summer soon realised that she could hurt Brody more by shooting Sienna dead, but Liberty - who had been rescued by Cindy Cunningham - knocked Summer to the ground with a petrol canister. As Summer grabbed a wrench to strike Liberty, Liberty grabbed Summer's gun and shot her in the leg. After the pair left the garage, Damon went to check if Summer was alive, only to find that she and the gun were missing.
Kill Count
[
]
Murders
[
]
None
Attempted Murders
[
]
Appendices
[
]
Residences
[
]
Employment history
[
]
Background information
[
]
Introduction Sequence
[
]
Quotes
[
]
"
Oh no, my cupcakes!
"

— First line
See also
[
]
Gallery
[
]