Doctor Strange in The Multiverse o Madness - The Loop
Play Sound
Sidney "Sid" Sumner is the son of Stuart Sumner, the foster son of Leela Lomax, the half-brother of Violet, the foster half-brother of Peri and Daniel Lomax, and the boyfriend of Lizzie Chen-Williams.
Sid's mother died when he was of a young age, leaving Stuart to raise him as a single father. Stuart was the leader of a far-right extremism gang and raised Sid to share his beliefs. Sid eventually gained a step-mother, who had a daughter (Violet) with Stuart, and the family later moved to Hollyoaks. After discovering Stuart's plan to kill gang member Ste Hay for attempting to leave the group, Sid intercepted and ended up pushing Stuart off a cliff to his death. Alice refused to let Sid back in with her so after being briefly fostered by Sienna Blake, Ste's half-sister Leela Lomax decided to foster Sid long-term.
After the arrival of his cousin Jordan Price, Sid and his friend Juliet Nightingale became involved in county lines drug dealing. Sid also began using ketamine, and ended up needing a leg amputation after being run over by Peri Lomax due to temporary paralysis. Tragedy continued when Sid was informed that Jordan had been fatally stabbed on New Year's Eve, and his plan to get Jordan's superior Victor Brothers imprisoned proved successful.
Sid has since begun a relationship with Lizzie Chen-Williams (despite unresolved matters with her step-sister Serena) and now works on The Love Boat.
Biography
2003-2019: Early Life
Sid was born in June 2003. His mother died when he was young and he was raised by his father, Stuart Sumner. Stuart was the leader of a far-right extremist organisation and raised Sid to inherit his anti-Muslim views. Although regularly getting along with his father, Sid could also fear him due to his heavy drinking, violence and anger. Stuart also ended up pulling Sid out of school, and homeschooled him until the age of 14. Stuart later married Alice, and later had a daughter - Violet - together.
Sid also had a bond with his cousin, Jordan Price. Jordan had little faith in Stuart's parenting ability, as Jordan was raised by a widower alcoholic father. Jordan would often defend Sid against bullies and also took him to music gigs, causing Sid to develop an interest in music. Sid began learning to play the guitar, but eventually dropped the hobby.
2019: Far-Right Extremism Involvement and Homelessness
Sid arrived in Hollyoaks in May 2019, having been enrolled in Hollyoaks High School. Having previously overheard Stuart, Jonny Baxter and Ste Hay arguing with the Maalik family, Sid began bullying Imran Maalik. Sid ended up falsely claiming to headteacher Sally St. Claire that Imran had made threats of terrorism against the school, but following investigation, Prevent concluded that the allegation was made maliciously. Sid continued with his racist campaign against Imran, until being warned off by Imran's friend Oliver Morgan.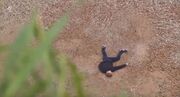 Meeting Juliet Nightingale at The Love Boat, the pair formed an attraction between each other and arranged a date. Defying Stuart's orders to stay home to watch Ste, Sid ended up meeting with Juliet and left abruptly to check on Ste. An oblivious Juliet ended up revealing to Stuart that Sid had gone on the date with her, resulting in Stuart reacting violently towards him. Sid revealed that Ste had met with his half-sister Leela Lomax, leading to Stuart realising that Ste planned to leave the organisation. He convinced Sid to help him in his plan to kill Ste, but Sid ended up informing Leela and Peri Lomax of Stuart's plan. Sid arrived at a cliff as Stuart prepared to kill Ste but Sid intervened, pushing Stuart from the cliff to his death.
Feeling guilty for the death of his father, Sid planned to confess all to the police, but was convinced otherwise by Sami Maalik. Sid ended up living on the street after Alice evicted him, until Juliet told teacher Sienna Blake. Sienna decided to call social services and allowed Sid to stay with her, despite her boyfriend Brody Hudson and half-sister Liberty Savage's disapproval. Sienna managed to get Sid re-enrolled at Hollyoaks High but attempted to reunite him with Alice. However, Brody was adamant that Sid was not to live with them after finding a knife in his bag. Despite Sienna's refusal to let Sid leave, Sid ended up calling a social worker to take him into care. He ended up running away and began sleeping rough in The Folly.
2019-2020: County Lines Drug Dealing
Returning to school, Sid found himself unpopular as Imran and Ollie harboured bad feelings towards him, whilst Juliet opted to spend more time with her friends. Sid ended up purchasing drugs from gangster Liam Donovan, but ended up suffering a reaction and a horrified Juliet (whose mother Donna-Marie Quinn was a drug addict) refused to speak to Sid. Juliet's brother Romeo found Sid sleeping rough, resulting in an argument between Sid and Juliet, overheard by Leela and Sienna. In return for Sid saving Ste's life, Leela invited Sid to stay with her. Sid also reconciled with Juliet, with the pair even sharing a kiss.
Leela decided that she wanted to permanently foster Sid, which he delightedly accepted. However, he was left irritated when Juliet later rejected his advances, and met with Jordan to buy drugs. Ollie and Imran caught Sid, with Ollie's father Luke Morgan convincing Sid to focus on his future instead of taking drugs. Sid returned home and apologised to Juliet, and the pair ended up sleeping together. Jordan returned to Hollyoaks on Stuart's birthday to comfort Sid, and ended up staying after making an impression on Leela and Peri. Juliet also took a liking to Jordan, who showed them around the estate he grew up on. Jordan convinced Sid to hide drugs for him, with Juliet flushing them during a search of the school lockers by P.C. George Kiss. After Juliet was threatened into selling drugs, Sid opted to help her.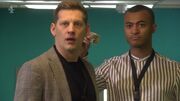 Juliet ended up falling out of love with Sid and the pair split after Juliet invited Imran and Ollie on a weekend away. Jordan - who had planned the trip so they could meet with a drug dealer - ended up convincing a supposed buyer to rob Sid to get Juliet back on board. Jordan's plan worked and Juliet accompanied Sid to Elicho House to complete the deal with dealer Danny. Juliet ended up stealing the phone of Sasha - one of Danny's 'employees' - which resulted in Sid nearly being stabbed by Danny's gang. However, Sid's attempts to protect Juliet would have consequences for him when his guitar examiner found marijuana in his folder, which Sid had taken from Juliet's locker during a sniffer dog search. Sid was subsequently expelled by Sally.
Now working full-time for Jordan, Sid ended up forming a friendship with Charlie Dean, comforting him after the suicide of his aunt's partner Kyle Kelly. Sid convinced Charlie to begin dealing drugs for Jordan in order for Charlie to earn money to purchase his own console and games. Sid was pressured by Jordan and his superior Victor Brothers into auditioning for a band, which would allow him to deal drugs to a wider range of people. Despite impressing band leader Raff, Sid ended up rejecting the offer. Jordan lied to Victor about Sid being rejected, but Sid inadvertently revealed the truth and Jordan was attacked by Victor.
Victor forced Sid and Juliet to sell drugs at Imran's party, with Ollie purchasing ketamine from them. After selling their supply, Sid gave Jordan the money, only for Juliet to reveal that she had stolen some of the money to purchase a new dress. Sid warned Juliet that Jordan was about to meet with Victor, with Juliet managing to intercept and replace the money in time. Realising how deep everyone was in with the dealing, Jordan told Sid that there was no way they could get out, leading Sid to call the police on Jordan for threatening to kill Juliet. Sid became upset when Juliet took over Jordan's duties and turned on Sid, who refused to speak with Juliet after discovering that she had recruited Ella Richardson.
2020-2021: Leg Amputation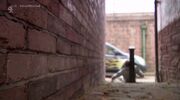 Juliet grew closer to Peri Lomax and further from Sid, with Peri attempting to reconcile them by postponing an outing with Juliet until she sorted things with Sid. Juliet rejected Sid, telling him that she was in love with Peri. However, Sid was furious to learn that Juliet had slept with Ollie and believed she had lied about her sexuality. After being rejected by Jordan (who discovered the truth behind Sid reporting him to the police), Sid ended up taking ketamine and fell due to temporary paralysis behind The Loft. Peri - distracted by her phone - ended up running over Sid's leg, which he had to have amputated in hospital. Sid initially struggled to adapt to life without his leg but was comforted by Ste and Courtney Campbell (who was born without legs), and took their advice of going to a rehabilitation clinic.
After Victor caught Juliet attempting to record her encounters with him, he ordered Jordan to kill Sid and Juliet. Jordan helped the pair flee, but was stabbed by Ella after finding her and Charlie under the table of The Hutch. Sid was left distraught by Jordan's death and decided to get Victor sent to prison. Sid returned to working for Victor and made a log of all of his meetings with and jobs from Victor. However, Victor learned the truth from Ollie (who told Victor in exchange for free ketamine) and stabbed Sid, who faked his death. Ste forced Ollie to continue Sid's plan and Sid returned to the village after Victor was arrested.
Sid started to develop an attraction to Courtney as she helped him adapt to life with a prosthetic leg. Sid told Courtney of his aspiration to join the police force, and was grateful when Courtney arranged for D.S. Cohen to give Sid an insight into policing. Sid ended up kissing a horrified Courtney, who told him that they could never form a relationship. However, Sid lied to Romeo and Tom Cunningham that he slept with Courtney and lead Tom's wife Yasmine to believe that they were having an affair. Courtney was suspended from Hollyoaks High School and ended up accepting a job in Scotland. After realising the damage he was causing, Sid supported Courtney and convinced her to accept it.
2021-: Relationship with Lizzie
After Courtney's departure, Sid struggled to find someone to be with. However, on a night out in September 2021, Sid met a woman named Serena and fell for her when she returned his prosthetic leg the next day. A few months later, Sid met Lizzie Chen-Williams and the pair went on a date, with Sid discovering that Lizzie was Serena's step-sister. Sid decided to break up with Lizzie for Serena, but Serena rejected Sid as Lizzie had fallen for him. Serena and Sid later confessed to Lizzie, with Sid deciding to stay with Lizzie who forgave the pair. Sid decided to help Lizzie in her challenge against Imran for the new job at The Love Boat. After Lizzie chosen over Imran, Sid also accepted a job on the boat.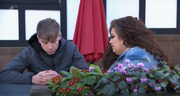 Sid and Lizzie's relationship began having issues when Sid was accused of selling Serena's friend Clara drugs, with Clara revealing that Sid was formerly a drug dealer. Lizzie's father Dave ordered Lizzie and Sid to stay away from each other, especially after Leela accidentally revealed the events behind Stuart's death. The pair ended up meeting secretly, until Lizzie convinced her father to allow her to decide who she dates.
Kill Count
Murders
Stuart Sumner, 18th November 2019 (defence) - Sid pushes Stuart off a cliff in defence of Ste Hay, as Stuart was going to push Ste off the same cliff.
Attempted Murders
None
Appendices
Residences
Employment history
Background Information
Sid was initially introduced as a guest character, before being promoted to regular a few months after debuting.
Introduction Sequence
Quotes
"
Shut up, Dad!
"
See Also
Gallery