We're Getting Mutants in the MCU - The Loop
Play Sound
Shaqeel Elvis "Shaq" Qureshi is the biological son of Misbah Maalik and Ali Shahzad, the adoptive son of Hasina Qureshi and an unknown man, the half-brother of Farrah, Yasmine and Imran Maalik, and the step-brother of Sami Maalik.
Cheeky womaniser Shaq turned up in the village, having jilted fiancée Lucy at the altar. Arriving on aunt Misbah Maalik's doorstep, he decided to stay to the dismay of cousin Sami Maalik, who even called his mother when Misbah sold the house to pay off Shaq's debts.
Upon Hasina's arrival, Shaq quickly fell out with her, with Misbah jumping to his defence regarding Lucy. Shaq soon revealed to his mother that he knew that his father was not his biological father. Discovering that Misbah was his biological mother and Ali Shahzad was his biological father, Shaq became eager to get to know his parents until discovering that he was conceived through rape.
Biography
[
]
1990s-2021: Upbringing
[
]
Shaq was conceived in circa 1990. Shaq's biological mother Misbah Maalik was a student at a medical school where overachiever Ali Shahzad also studied. Misbah and Ali shared mutual feelings towards each other, but Ali ended up raping Misbah. Misbah ended up falling pregnant and informed Ali, who ordered her to get a termination. Misbah refused and her family forced her to give the baby to her sister Hasina Qureshi and her husband, as Misbah was not married and the couple could not conceive. The baby - named Shaqeel - was raised to believe that Hasina and her husband were his biological parents.
2021: Family Revelations
[
]
Shaq arrived in the village in March 2021 dressed in a wedding Sherwani. He hid from a man behind Diane and Verity Hutchinson in Salon de The de Marnie, telling them that the situation was "complicated". Shaq later bumped into his step-cousin, Sami Maalik, in The Dog in the Pond. He informed Shaq that Lucy, his fiancée, called off the wedding as he had been unfaithful. Shaq feared his mother's reaction and wanted to ask his aunt, Misbah, if he could stay with her. Shaq later overheard Verity talking about her fake pregnancy, and whilst Verity and Sami prepared to move to New York, Shaq revealed that Verity had lied about the pregnancy.
Shaq revealed that he was in debt, and ended up working for gangster Warren Fox. Whilst working for Warren and his associate Fergus Collins, the pair convinced Shaq that he had lost an expensive piece of jewellery. Telling Misbah about the debt, she decided to sell their house to Fergus to pay the pair back.
In July 2021, Shaq's mother Hasina arrived to take him back home, to Shaq's dismay. Shaq later discovered that his father was not his biological father, and confronted Hasina. Hasina and Misbah told Shaq that Hasina had an affair with Misbah's late husband Kashif, resulting in the conception of Shaq. However, Misbah later admitted to Marnie Nightingale that she was Shaq's biological mother, conceiving him out of wedlock with Ali Shahzad, who disappeared after she informed him of the pregnancy. Sami confronted Misbah after he tested his DNA against Shaq's, which proved that Kashif was not his father, and Misbah swore him to secrecy. However, Sami drunkenly told Shaq the truth. Misbah later revealed that Ali was his father and the pair got along very well, until Misbah revealed that Shaq was conceived through rape.
2021-: Relationship with Nadira
[
]
Shaq turned against Ali, believing Misbah over the rape whilst Ali claimed that she was lying. Shaq's disgust of Ali resulted in several encounters with the law, and Shaq was charged with faking a letter supposedly from Ali, admitting to the rape, in December 2021. However, Sami forced Ali into making a confession, which he was unable to revoke as Gina Gregson also made a report. Despite having an affair with Verity, Sami gave her and Shaq his blessing to get together as he left for London. Their relationship was initially complicated by Shaq visiting Ali in prison and believing that he would turn out like Ali, but Misbah reconciled the pair by telling Verity about the prison visit.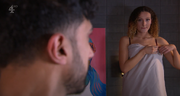 Despite Misbah and Verity's words, Ali's comparison continued to haunt Shaq and he became adamant that he would end up hurting Verity. Shaq ended up going to a bar and having a one night stand with a woman he met, with Verity walking in on the pair and ending her relationship with Shaq. Despite Verity being eager for a reconciliation, Shaq refused out of fear of hurting her again. After encountering childhood friend Nadira Valli at a Muslim matrimony event, Shaq convinced her to arrange a marriage for him. After Verity learned of this, she placed her grandmother's ring in his hand and told him to propose now or lose him forever. Shaq returned the ring and entered a marriage agreement with Nadira.
Nadira, however, began developing (and denying) feelings for Juliet Nightingale. Shaq invited Nadira's father Kamal to the village, only to discover that he was unaware of the engagement. After Nadira told him that she wanted to marry Shaq, he decided to pay for the wedding. Shaq discovered that Nadira and Juliet kissed, but Nadira convinced him that Juliet made a move on her.
Appendices
[
]
Residences
[
]
Employment history
[
]
Background Information
[
]
Introduction Sequence
[
]
Quotes
[
]
"
Worse... But you've just saved my life.
"
See Also
[
]
Gallery
[
]