Doctor Strange in The Multiverse o Madness - The Loop
Play Sound
Serena Chen-Williams (née Chen) is the daughter of Honour Chen-Williams and an unknown man, the step-daughter of Dave Chen-Williams, the half-sister of Mason Chen-Williams, the step-sister of Maxine Minniver and Sam Chen-Williams, and the adoptive step-sister of Lizzie Chen-Williams.
Biography
2021-: Arrival
Serena met Sid Sumner at a party in September 2021, returning his prosthetic leg to him after he left it behind after getting drunk. Serena went on a date with Sid, who knew her by her stage name 'Galaxy'. She also told Sid that her music agent was her mother Honour and that she partook in karaoke competitions.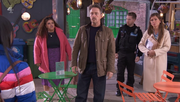 A few months later, Serena arrived at The Dog in the Pond to meet the man her step-sister Lizzie was going on a date with, and was horrified to realise that it was Sid. Serena refused to tell Lizzie the truth and let Sid break up with Lizzie for her, despite Serena still having feelings for Sid. After catching her step-father Dave Chen-Williams in the park with a woman, Maxine Minniver, she and Lizzie became convinced that he was being unfaithful. Confronting the pair in the village, Maxine revealed that she was Dave's daughter. The revelation that Honour already knew caused Serena to turn on her parents.
At Lunar New Year, Sid comforted Serena, who decided to tell him the truth about how she felt about him. However, Serena mistook Sid for Imran Maalik (as he was in the Chinese Dragon costume), and ended up sharing a kiss with him. Sid later told Serena that he overheard what she said, but Serena played things down. Serena and Sid began to steer clear from each other, with Sam warning Imran off Serena. Serena also ended up forgiving Dave for keeping Maxine secret from them, even helping him reconcile with Maxine.
Appendices
Residences
Employment History
Background Information
Introduction Sequence
Quotes
See Also
Gallery