Doctor Strange in The Multiverse o Madness - The Loop
Play Sound
P.C. Saul Reeves (undercover alias "Nate Denby") is a police officer who arrived in Hollyoaks as part of an operation to uncover "Operation Bluebird". Saul, however, used his undercover presence to attempt to find his missing friend Lisa Loveday, who was kidnapped and raised by Saul's aunt Margaret Smith.
Moving into 3 Oakdale Drive as a roommate of Ripley Lennox and landlady Grace Black, Saul set up his cover by opening a clothing stall in Cunningham's Grande Bazaar and also began a relationship with Grace. Developing feelings for Grace ultimately lead to Saul revealing his investigations into the Deveraux family. His side-investigations also lead to him regularly clashing with his superior, D.S. Lexi Calder.
Biography
2021: Arrival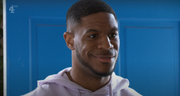 Saul arrived in the village in September 2021, under the name "Nate Denby". Saul attended a viewing of 3 Oakdale Drive, intending to move in as a flatmate. The owner, Grace, was left smitten by Saul (as was Grace's friend Scott Drinkwell, who was quickly sent away by Grace). Saul also took a liking to Grace, inviting her for a drink after receiving a tour of the village. They later ended up having a one-night-stand, but Grace was left tormented over whether to pursue her feelings for Saul. She ended up giving in and the pair began dating. Saul later opened a clothing stall in Cunningham's Grande Bazaar
Grace was confused when Saul began receiving calls from "Lexi", whom Saul claimed was an ex-girlfriend. The next day, Saul met with Lexi on the road behind The Loft, with Lexi disapproving of Saul getting close to "gangster Grace Black" and reminding Saul of their undercover police job. A few weeks later, Lexi revealed that the undercover job was about "Operation Bluebird", whilst Saul embarked on his own quest - to find out what happened to his friend Lisa Loveday.
2021-2022: Justice for Lisa
Saul began targeting the Deveraux family, believing that former gangster Felix Westwood had killed her. Giving Felix's son DeMarcus a job at his market stall, Saul subtly used DeMarcus to get closer to the family. After Grace found him attempting to break into the Deverauxes flat, Saul was forced to tell her of his investigations. Grace initially rejected Saul for his lies, but decided to help with his investigations after Saul discovered that Celeste Faroe had forged Lisa's handwriting on a postcard sent to Martine Deveraux. At Martine and Felix's wedding, Celeste and Toby Faroe discovered that Saul was looking into Lisa's death and attempted to throw him off the scent.
A few weeks later, Saul was part of the search for Timmy Simons's body in Croxford Woods. A body was found, but later identified as Lisa. An upset Nate revealed that Lisa's kidnapper Margaret Smith was his aunt, and he and Lisa developed a close bond as they grew up together. Saul had promised Margaret on her deathbed that he would look after Lisa, hence why he prioritised the search over everything else. Mitchell Deveraux was accused of being Lisa's killer, having been framed by Celeste. Saul obtained a copy of "The Red Door" and tracked down Doctor Ley, discovering that Toby was the one who killed Lisa. However, Toby beat Saul unconscious and hid him inside the Sweater Thunberg van. After regaining consciousness, Saul arrived at Salon de Thé de Marnie, which had exploded with Toby and Celeste inside. Celeste was killed in the blast, whilst Toby was left comatose.
When Toby awoke from his coma, DeMarcus informed Saul who visited Toby in hospital. Saul attempted to force Toby into signing a confession letter, which he refused to do. Toby's family attempted to help him escape, but Saul confronted Toby in Warren's Wheels, armed with Grace's gun. Grace walked in on the pair and managed to talk Saul out of killing Toby, and Saul shot the ceiling to scare Toby. Toby was arrested after Felix called the police, but Saul faced a conduct review over trying to force Toby to sign the confession letter. He met his replacement, D.S. Zoe Anderson, outside of Dee Valley Police Station and was informed that he had been demoted to police constable.
Kill Count
Murders
None
Attempted Murders
Toby Faroe, 10th February 2022 - Prepared to shot Toby for murdering his close friend and "adoptive-cousin" Lisa Loveday, but was talked out of it by Grace Black and shot the ceiling instead.
Appendices
Residences
Employment History
Background Information
Introduction Sequence
2022-: Saul has his hand taken by Grace Black and placed over her shoulder.
Quotes
See Also
Gallery