Doctor Strange in The Multiverse o Madness - The Loop
Play Sound
P.C. Sam Chen-Williams (né Williams) is the son of Dave Chen-Williams and an unknown woman, the step-son of Honour Chen-Williams, the half-brother of Maxine Minniver, Lizzie and Mason Chen-Williams, and the step-brother of Serena Chen-Williams. Sam and Lizzie share the same mother, whilst Lizzie was later adopted by Sam's father Dave.
Biography
Until 2021: Early Life
Sam was born to Dave Chen-Williams and an unknown woman. Sam's mother went on to have a daughter named Lizzie by another man. Dave ended up adopting Lizzie and married Honour Chen, with Dave, Sam, Lizzie and Honour's daughter Serena changing their surnames to "Chen-Williams". Sam also later gained a half-brother as Honour gave birth to a son by Dave, who they named Mason.
2021-: Arrival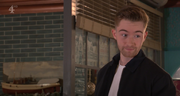 Sam arrived in the village in December 2021, meeting Celeste Faroe whilst at The Dog in the Pond. A few days later, Sam attended a family Christmas at The Dog, arranged by his father Dave. In January 2022, Sam's sister Lizzie and step-sister Serena told Sam of their suspicions that Dave was having an affair with Maxine Minniver. A public confrontation with Dave and Maxine lead to Maxine revealing that she was actually Dave's daughter. The children were left devastated by the revelation, even more so upon discovering that Honour already knew.
Sam decided to start running workout classes in the hall of Hollyoaks High School, attended by Serena and several of her friends. Amongst them was Lizzie's boyfriend Sid Sumner who had previously flirted with Serena. Sam warned Sid to stay away from Serena, and insulted Sid's friend Imran Maalik after Imran took a liking to Serena. Sam ended up crossing Warren Fox after taunting him, and Warren viciously attacked Sam in the alleyway next to The Loft.
Whilst running an exercise class in the school hall, Sam met D.S. Zoe Anderson and the pair shared a mutual attraction. Despite both playing hard to get, the pair ended up initiating a fling.
Appendices
Residences
Employment History
Background Information
Introduction Sequence
Quotes
See Also
Gallery