Natasha Andersen was the daughter of Greg and Jane Andersen, as well as the sister of Sarah Andersen and the girlfriend of Kurt Benson.
Biography
Edit
Relationship with Kurt
Edit
Natasha caught the eye of Kurt Benson, and enjoyed teasing him and playing hard to get with him. When Natasha's sister, Sarah Andersen, was hospitalised due to smoke inhalation after going joyriding in Kurt's car with Ollie Benson, Julie Matthews and another friend (which resulted in the car overheating and exploding), Natasha believed Kurt had something to do with her hospitalisation. Kurt managed to convince Natasha of his innocence.
Natasha began setting Kurt challenges for him to "prove" his feelings for her. At Christmas 1995, Natasha invited Kurt to celebrate Christmas with her family, ultimately making him choose her or his family. Kurt chose to spend time with her family. Natasha's father, Greg Andersen, also took a liking to Kurt when he stood in as a guitarist to perform at The Dog in the Pond, and Greg announcing his approval over Kurt to Natasha left her unimpressed.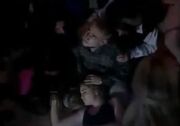 Natasha began flirting with Dermot Ashton in an attempt to make Kurt jealous. Natasha accepted an invite to Kurt's sister, Lucy Benson's eighteenth birthday party, and Dermot accompanied her to the party. Dermot and Rob Hawthorne brought ecstasy to the party, planning to spike Lucy and Natasha's drinks so that Rob could convince Lucy to have sex with him and Dermot could do the same with Natasha. Natasha drank heavily at the party, unaware that her drinks had been spiked, and she collapsed. She later died of an overdose in hospital.
Aftermath
Edit
Kurt and Natasha's friends realised that Dermot and Rob were responsible for Natasha's death, and Kurt sought revenge. He attempted to report them to the police, but they were released due to insufficient evidence. Dermot was later killed after drowning when the car he was in crashed through a fence, flipped and crashed into River Dee. Kurt and Rob then had a long-running feud in which the pair made several attempts to kill each other, which ended when Rob was killed in a bus explosion in December 1999, caused by himself.
Background information
Edit
Natasha was one of the original characters created by Phil Redmond for Hollyoaks.
Natasha was axed from the show at the end of her short-term contract.
Natasha was the first ever character to die in Hollyoaks.
Natasha's death was based off the real life event of Leah Betts's death.
Community content is available under
CC-BY-SA
unless otherwise noted.