Wiki Targeted (Entertainment)
Play Sound
Lucas "Luke" Morgan is the son of Sue and Andy Morgan, the brother of Adam, Beth and Zara Morgan, the ex-husband of Scarlett Morgan, the estranged husband of Mandy Richardson as well as the father of Oliver Morgan. He is also the biological father of DJ Osborne.
Luke immediately turned the heads of the women in the village when he first arrived in March 1999, embarking on a short liaison with Ruth Benson before Mandy Richardson caught his attention, their relationship strengthened by Mandy's support during the marital issues between Luke's parents.
However, Luke's world came crashing down in March 2000 when he was raped by Mark Gibbs, whom he had a rivalry with after accidentally breaking Mark's leg, resulting in him being unable to play football professionally. Luke was tormented by Mark for months and decided to take his own life, but accidentally crashed into a skip whilst driving. Telling his brother Adam what happened, Adam and Luke's family stood by him and Mark was sentenced to eight years imprisonment.
Haunted by memories of the rape, Luke decided to accept a job offer in Canada and left in December 2001, returning in October 2002 for his parents re-marriage. With a failed marriage to Scarlett and leaving behind his son, Luke reunited with Mandy and returned to Hollyoaks in 2017; but it was not to be as Mandy embarked on an affair with Luke's best friend Darren Osborne. Luke has since moved on, dating Mandy's step-sister Cindy Cunningham.
Biography
[
]
1999: Arrival
[
]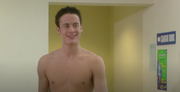 Luke arrived in Hollyoaks with his family in 1999: his father Andy had purchased a business to turn into a café in an attempt to save his marriage with Luke's mother Sue, Luke's older brother Adam had been hired as a lifeguard for the local pool, and his youngest sister Zara had been enrolled at Hollyoaks Comprehensive after being expelled from a previous school.
Befriending Darren Osborne, Luke embarked on a brief fling with Ruth Osborne before meeting Mandy Richardson, whom he fell for. His feelings were reciprocated and the pair began a relationship. During a football match, Luke had a series of disagreementments with Mark Gibbs. Luke tackled Mark and accidentally broke his leg, resulting in Mark being unable to play football professionally and ultimately igniting a feud between the pair.
1999-2000: Rape
[
]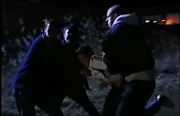 Mark vowed to cause problems for Luke, with help from his brothers as well as friends Stephen MacGregor and Kenneth Boyd. Luke and Mandy ultimately became targets of harrassment, which the pair struggled to ignore. In March 2000, Mark, Stephen and Kenneth followed Luke into the changing rooms of a sports ground, taunting him and throwing his clothes into a toilet. This resulted in a confrontation which ended up getting physical. After being attacked by Mark and his friends, Luke ran after them; slamming Mark's leg in the car door, throwing a rock through the back window of Mark's car, and speeding off. Mark, Stephen and Kenny followed Luke and managed to catch him when his car got stuck in a pothole. The trio grabbed Luke pinned him to the car, and Mark ended up raping Luke to Stephen and Kenny's horror.
Luke became reclusive in the aftermath of the rape, refusing to speak to Sue and sister Beth Morgan after returning home covered in blood. Shutting himself away from everyone, his relationship with Mandy began to fall apart and Luke became easily angered: even almost getting violent towards Zara's friend Hannah after Zara and Hannah played a prank on him. Mandy believed that Luke had gone off her and broke up with him, and began dating Darren Osborne in an attempt to make Luke jealous. Mandy ended up turning against Luke, refusing to speak with him and threatening to get the police involved if he continued sending her letters and calling her.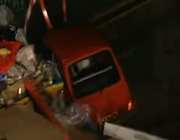 As Mark's threatening presence continued and Luke's feeling of isolation grew, Luke decided to take his own life at a nearby park. However, whilst driving to the park, Luke ended up crashing his car into a skip bin and was left hospitalised. Whilst in hospital, Adam managed to get Luke to open up to him, with Luke revealing all about the rape and suicide attempt. Adam tried to push Luke to report Mark to the police but Luke initially refused, setting fire to his clothes to destroy evidence. Adam managed to change Luke's mind and Luke reported the crime to D.S. Barnes, who arrested and later charged Mark, Stephen and Kenny.
This section or article is a stub.
This section or article is a stub - there is too little information to be useful. You can help the Hollyoaks Wiki by
expanding it
.
Kill count
[
]
Murders
[
]
None
Attempted murders
[
]
Scott Drinkwell, 4th September 2018 - Viciously attacked on the belief that Scott had been abusing his son, Oliver Morgan.
Appendices
[
]
Residences
[
]
Employment history
[
]
This section is currently missing or incomplete.
This section is currently missing content, or is presently incomplete. You can help the Hollyoaks Wiki by
adding content
to this section.
Background Information
[
]
In May 2017, it was revealed that actor Gary Lucy had signed an eighteen-month contract, subsequently returning to Hollyoaks as Luke.
In March 2018, it was announced that Gary Lucy would be taking a nine-month break to appear in The Full Monty, and Luke made intermittent appearances between September 2018 and April 2019.
In March 2019, it was announced that Gary Lucy would return to Hollyoaks full-time, with Luke returning on-screen in August 2019.
Introduction Sequence
[
]
Quotes
[
]
"
Hiya, I know this sounds a bit forward, but I just wondered where you were heading?
"
See also
[
]
Gallery
[
]