We're Getting Mutants in the MCU - The Loop
Play Sound
Lizzie Chen-Williams (previously Williams) is the adoptive daughter of Dave Chen-Williams, the adoptive step-daughter of Honour Chen-Williams, the half-sister of Sam Chen-Williams, the adoptive half-sister of Maxine Minniver and Mason Chen-Williams, the adoptive step-sister of Serena Chen-Williams, and the girlfriend of Sid Sumner.
Biography
[
]
Until 2021: Early Life
[
]
Lizzie was born to an unnamed man and woman. Lizzie's mother had previously given birth to a son - Sam - during a relationship with Dave Williams. Lizzie's biological father was a drug addict, and Lizzie vividly remembered - at the age of five - finding her mother standing over her unconscious father after he took a drug overdose. Lizzie was later adopted by Dave and Dave later married Honour Chen. Dave, Honour, Sam, Lizzie and Honour's daughter Serena changed their surnames to "Chen-Williams", and Honour later gave birth to a son by Dave, named Mason.
2021-: Arrival
[
]
Lizzie arrived in the village in December 2021, encountering Romeo Nightingale and Sid Sumner at The Dog in the Pond. Lizzie got along with Sid, and the pair ended up sleeping together. The pair ended up going on a second date and began a relationship. Lizzie soon set her sights on a job at The Love Boat, recruiting Serena to help her as Sid helped Imran Maalik in his attempts to also get the job.
Serena and Lizzie spotted Dave at the park with an unfamiliar woman, Maxine Minniver. After confronting the pair in the middle of the village, believing that Dave was cheating on Honour, Maxine revealed that she was in fact Dave's daughter. Despite Mason quickly forgiving Dave, Sam, Lizzie and Serena were not so forgiving. However, Honour made Lizzie and Serena see things from Dave's point of view and the pair helped Dave reconcile with Maxine.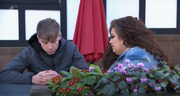 Sid and Lizzie's relationship took a turn for the worse when Serena's friend Clara revealed that Sid was formerly a drug dealer. After Serena collapsed after drinking Clara's water bottle, which had been spiked by Clara with amphetamines, Sid was accused of supplying Clara with drugs. Lizzie forced a confession from Clara, but Dave ordered Lizzie to keep away from Sid. The pair ended up having a secret relationship, with Lizzie managing to talk Honour round. After Sid told Lizzie about the death of his father, Dave decided to give Lizzie more agency and agreed to let Lizzie continue dating Sid.
Lizzie was thrilled for Serena when she discovered that she had been chosen to represent England in the Commonwealth Games. Whilst celebrating with Maxine, Serena climbed onto the roof of the Park Café and fell when Maxine threw a medal to her. Lizzie blamed Maxine and after a surgery on Serena performed by unqualified doctor Ali Shahzad went wrong, told Dave and Honour. Dave asked Maxine to keep her distance from the family as they adjusted to Serena's future.
Appendices
[
]
Residences
[
]
Employment History
[
]
Background Information
[
]
In December 2021, it was announced on Hollyoaks's official Instagram page that Lily Best had been cast as "Lizzie". Her debut also appeared in the Winter trailer, which was posted several days before the announcement.
Introduction Sequence
[
]
Quotes
[
]
"
Romeo? Oh, like, for real? And is there a Juliet?
"
See Also
[
]
Gallery
[
]