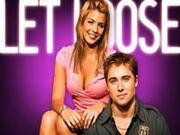 Hollyoaks: Let Loose was a spin-off of Hollyoaks that aired between September and December 2005. The series followed Ben Davies and Lisa Hunter as they decided to leave Hollyoaks for a new life abroad, however, their relationship is put to the test over Lisa's jealousy. The series aired a total of 14 episodes.
This section is currently missing. You can help the Hollyoaks Wiki by adding it.
Main characters
Edit
This section is currently missing. You can help the Hollyoaks Wiki by adding it.
Episodes
Edit
| Episode | Air Date | Synopsis | Viewing figures |
| --- | --- | --- | --- |
| Episode One | 12th September 2005 | Ben and Lisa discover that the course of true love never runs smooth, Jenny's dream wedding turns into a nightmare when she discovers an incriminating photo, and Alex and Ally cause a stir as their relationship appears a little too intimate. | Unknown |
| Episode Two | 19th September 2005 | Jenny descends into a world of partying and late nights as Gareth jets off on their honeymoon. Ben and Lisa are given some unexpected help as they search for jobs. Alex is furious as Nathan dumps a high-profile custody case on Ally at the last minute. | Unknown |
| Episode Three | 26th September 2005 | Ben and Lisa have a huge row when Lisa discovers he's been speaking to Ally about Arthur. Alex is chatting up an old school friend when her husband storms into the bar and accuses him of having a cyber affair with his wife. Ben steps in to separate the men, and the barman offers Ben a job. Meanwhile, a drunk Jenny drags Alex off for an impromptu pole dancing session. | Unknown |
| Episode Four | 3rd October 2005 | Ben and Lisa go to Crewe to see Arthur, but arrive late and miss him. Alex has a an unexpected, but fun evening with Sister Claire. Luke is bitter as everyone appears to have forgotten his birthday. | Unknown |
| Episode Five | 10th October 2005 | Ben lets Lisa down, having to work overtime. He bribes Jenny to take Lisa on a night out, which Lisa reluctantly accepts. When Lisa is faced with an over-enthusiastic admirer, Jenny helps her out - could this be the beginning of a beautiful friendship? Matt acts on his feelings for Ally, but Ally sees Matt as nothing more than a distraction from her heartbreak. Alex starts to question whether there is more to life than women. | Unknown |
| Episode Six | 17th October 2005 | Luke checks himself in to therapy where he gets a date with a fellow patient, but it soon becomes clear why she was seeking help... Jenny decides that she is going to enjoy her newfound freedom, but Gareth turns up looking to build bridges. Alex tries to help Sister Claire out of a sticky situation and Ben urges Matt to declare his feelings to Ally. | Unknown |
| Episode Seven | 24th October 2005 | Jenny is looking for revenge following Gareth's attack on her prized possessions, and starts a hate campaign against him. Lisa worries when Ben decides he wants to apply for residency for Arthur. Matt excitedly anticipates his new beginning, convinced that his music will be enough to keep him going. Ally can't seem to shake her obsession with Nathan but how will she react to his latest insult? Alex is in hot pursuit of Sister Claire, but is he enough to turn her head? | Unknown |
| Episode Eight | 31st October 2005 | Lisa's imagination is running away with her as she suspects that Ben's relationship with Ally is becoming more than platonic. Alex invites Sister Claire to Dave's wedding, but Claire begins to doubt his motives. Ally lies to Ben about having a new love interest and hires an escort to accompany her to the wedding. | Unknown |
| Episode Nine | 7th November 2005 | Alex is in turmoil as he deals with the aftermath of Ash's rape allegation. After going to the police, Ash has managed to grab the attention of the local papers and Alex fears that his business will suffer as his reputation lies in tatters. Jenny is determined to show Gareth that she is getting on with her life and more importantly that she is having better sex than he is. Matt is still depressed after his drunken admission of undying love for Ally. | Unknown |
| Episode Ten | 14th November 2005 | This section is currently missing. You can help the Hollyoaks Wiki by adding it. | Unknown |
| Episode Eleven | 21st November 2005 | Luke surprises his friends, as he appears to have genuine affection for his latest conquest, Sarah - but just as he gets his feet under the table he's in for a shock when she introduces him to her daughter! As Ben continues to work on Arthur's custody case with Ally, his relationship with Lisa is beginning to suffer. Alex continues to torture himself as he awaits news of Ash's rape allegations. | Unknown |
| Episode Twelve | 28th November 2005 | Lisa is suffering with the repercussions of her night with Nathan - dealing with the guilt is tearing her apart. Ben senses things are not quite right with Lisa, but what can he do if she won't talk to him? Lisa's guilt and self-loathing leads her to a high street chemist, there she finds herself surrounded by everything she'd need to abate her urge to self-harm... Alex discovers life is not quite as simple as he thought when Sister Claire introduces him to Father McGrath, who suggests that maybe he should convert to Catholicism. | Unknown |
| Episode Thirteen | 5th December 2005 | Ally is alarmed to hear about Alex's plans to sell his limo business in exchange for a career working for his dad. He remains adamant he's doing it for the woman he loves, however, Ally can't help but wonder if it really is such a good idea. Nathan's furious when Ben arrives at court alone and when he hears that Ben wants to drop Arthur's custody case, he walks out in disgust, leaving a devastated Ben to tell Ally the reason he's halting proceedings - he doesn't want Lisa's self-harming episode to be discussed in court - it would destroy her. Jenny drags Sister Claire off clothes shopping, but the results are better than she could ever have imagined. | Unknown |
| Episode Fourteen | 12th December 2005 | It's Christmas Eve and a despondent Ben looks forward to the few hours he's allowed to share with Arthur. Lisa attempts to get into the Christmas spirit, but thoughts of her indiscretion with Nathan play heavily on her mind as she struggles with the consequences. Ally's competitive spirit is called into action when a last minute shopping spree catapults her into wonder woman mode - she'll buy enough food for Christmas dinner if it's the last thing she does! Matt has a bad day when he has a run-in with chart rappers Goldie Lookin' Chain. Ben takes a compromising picture of Nathan... | Unknown |
Community content is available under
CC-BY-SA
unless otherwise noted.