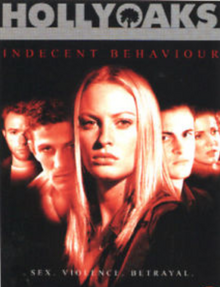 Hollyoaks: Indecent Behaviour was a spin-off video of Hollyoaks, released on DVD on 17th November 2001. Phil Redmond was credited as executive producer.
Geri Hudson arrives with footballer boyfriend Jason Cunliffe. In a club, Scott Anderson begins to chat Geri up. Luke Morgan steps in to stop him taking it too far, however just as Scott and his friends are about to throw Luke into the river, Scott tells his friends that he has a better idea; Scott and his friends pull Luke's trousers down to make fun of Luke's rape from the previous year. Ben Davies and Beth Morgan try to break Scott and Luke up before a fight breaks, which it does between Ben and Luke. Beth is later offered a lift by Scott, and then is raped.
This section is currently missing. You can help the Hollyoaks Wiki by adding it.