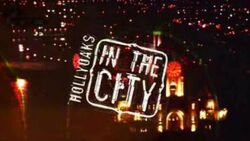 Hollyoaks: In the City was a spin-off of Hollyoaks that aired from August to December 2006. It followed characters Ben Davies and Lisa Hunter in Liverpool, as Lisa goes into modelling and Ben turns to crime.
The show was created and produced by Daran Little, and the theme song was Next to Me, performed by Shayne Ward. The series aired 20 episodes before Channel 4 cancelled the series due to low viewing figures, which was announced on Daran's MySpace page on 16th November 2006.
This section is currently missing. You can help the Hollyoaks Wiki by adding it.
Episode
Air Date
Synopsis
Viewing figures
Episode One
14th August 2006
Ben and Lisa return to England and they move in with Ben's friend Tank Top in Liverpool, and his roommate Adam Tyler. They decide to purchase a bar in Liverpool but get conned. Ben wakes up in bed with another woman, a model/escort named Kay.
Unknown
Episode Two
21st August 2006
Burton pressures Kay for the money she owes him. Lisa, Kay and Polly go for a night out. Kay is mugged and she and Ben bump into each other. Debbie tries to get her gay friend Josh to have sex with her.
Unknown
Episode Three
28th August 2006
Millie becomes even more paranoid about Adam, and she confronts Lisa about it, wrongly believing that they are having an affair. Tank Top and Ben confront the scam artist who stole Ben's money.
Unknown
Episode Four
4th September 2006
Ben, Adam and Tank Top have an interesting day running into randy older women. Adam meets Millie's parents, with some disastrous consequences. Burton takes possession of some counterfeit money, a body is discovered by bin men.
Unknown
Episode Five
11th September 2006
The body is revealed as being Kay's, and the girls become freaked out when they realise the agency is being watched. Debbie is rude to Josh who later comforts her. Adam splits with Millie, whilst Lisa tries her hand at acting in a home movie.
Unknown
Episode Six
18th September 2006
Millie tries to come to terms with her split with Adam. Meanwhile, Polly reveals her not so glamorous life to Ben.
Unknown
Episode Seven
25th September 2006
Lennox gives Josh a hard time for telling the truth. The attacker is revealed as Kay's grieving brother. Troy decides to give Burton a piece of his mind and Ben calls Lisa a "whore" for dining out as an escort girl with Polly and Burton.
Unknown
Episode Eight
2nd October 2006
When Ben's DNA is found in Kay's bed, he has to own up to having had sex with Kay, but hopes Lisa will not find out. Millie does her best to make Adam jealous by flirting with Troy. Ben and Lisa have a lovers tiff over Kay.
Main characters
Edit
This section is currently missing. You can help the Hollyoaks Wiki by adding it.