Jurassic World: Dominion Dominates Fandom Wikis - The Loop
Play Sound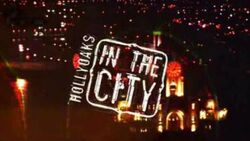 Hollyoaks: In the City was a spin-off of Hollyoaks that aired from August to December 2006, created and produced by Daran Little. A total of 20 episodes were transmitted, airing on E4. The series was also somewhat of a successor to the 2005 spin-off series, Hollyoaks: Let Loose.
Synopsis
[
]
After returning from a holiday in Sri Lanka, Ben Davies and Lisa Hunter attempt to make it on their own as they move into an apartment in Liverpool with Ben's friend, Tank Top, and his roommate, Adam Tyler.
Lisa is hired by a modelling agency, whilst Ben begins to work for Lisa's employer, Burton Phillips. However, as Lisa attempts to find success, she finds herself in a dark world upon meeting Stella Grey. Ben also finds himself in the dark world of Burton, following the murder of Kay Price. And when faced by the charms of Polly Clarke, Ben gives into his feelings and jeoparadises his relationship with Lisa.
Adam struggles with his sexuality as he finds himself slightly attracted to student Josh Jones (who is infatuated with him), but is also attracted to his future wife, Millie Andrews.
Main Cast
[
]
Episodes
[
]
Episode
Air Date
Synopsis
Viewing figures
Episode One
14th August 2006
Ben and Lisa return to England and they move in with Ben's friend Tank Top in Liverpool, and his roommate Adam Tyler. They decide to purchase a bar in Liverpool but get conned. Ben wakes up in bed with another woman, a model/escort named Kay.
Unknown
Episode Two
21st August 2006
Burton pressures Kay for the money she owes him. Lisa, Kay and Polly go for a night out. Kay is mugged and she and Ben bump into each other. Debbie tries to get her gay friend Josh to have sex with her.
Unknown
Episode Three
28th August 2006
Millie becomes even more paranoid about Adam, and she confronts Lisa about it, wrongly believing that they are having an affair. Tank Top and Ben confront the scam artist who stole Ben's money.
Unknown
Episode Four
4th September 2006
Ben, Adam and Tank Top have an interesting day running into randy older women. Adam meets Millie's parents, with some disastrous consequences. Burton takes possession of some counterfeit money, a body is discovered by bin men.
Unknown
Episode Five
11th September 2006
The body is revealed as being Kay's, and the girls become freaked out when they realise the agency is being watched. Debbie is rude to Josh who later comforts her. Adam splits with Millie, whilst Lisa tries her hand at acting in a home movie.
Unknown
Episode Six
18th September 2006
Millie tries to come to terms with her split with Adam. Meanwhile, Polly reveals her not so glamorous life to Ben.
Unknown
Episode Seven
25th September 2006
Lisa discovers that her attacker is Kay's brother. Debbie and Stacey almost come to blows. Ben is arrested on suspicion of Kay's murder. Precious's plan to help Troy backfires for her.
Unknown
Episode Eight
2nd October 2006
Ben is released without charge. Adam rejects Millie, who wants him back. Tank Top plans a special surprise birthday for Adam, but goes too far.
Unknown
Episode Nine
9th October 2006
Ben makes a horrific discovery. Adam finds himself conflicted over Millie. Burton takes joy in winding up Troy, whilst Lisa and Polly are hired for a photoshoot with a

footballer

.
Unknown
Episode Ten
16th October 2006
Ben, tormented by guilt, confesses to Lisa that he helped burn down a warehouse, and they argue. Tank Top develops a conscience when he discovers Polly is being paid to sleep with him. Adam and Josh bond, until Josh questions Adam's own sexuality. Later Adam torments himself further by looking over gay websites.
Unknown
Episode Eleven
23rd October 2006
Lisa, Adam, Troy and Precious spend the day in Blackpool. Ben and Polly's relationship progresses behind Lisa's back. Tank Top is surprised to find a potential love interest in Connie's daughter.
Unknown
Episode Twelve
30th October 2006
Adam proposes to Millie and, although she is initially furious, she later accepts. Orson secretly records Ben and Polly kissing and goes to show Lisa. Debbie and Josh are surprised to walk in on Ben naked and Polly wearing only lingerie
Unknown
Episode Thirteen
6th November 2006
Ben, Lisa, Polly, Tank Top, Precious and Troy assemble for the premiere of Orson's film, but they get a shock when the footage includes Ben and Polly together. Adam and Tank Top decide to kick Ben out.
Unknown
Episode Fourteen
13th November 2006
Debbie is devastated when Tank Top unceremoniously dumps her. Polly is put in a predicament when Burton offers her an escorting job; she needs the money and accepts it. She lies to Ben about it and feels terrible.
Unknown
Episode Fifteen
20th November 2006
Precious puts forward a proposal to Troy. Ben is uncomfortable when Stella is desperate to get her own way. Adam is furious to learn of Tank Top and Debbie's relationship, whilst Josh admits the truth.
Unknown
Episode Sixteen
27th November 2006
Adam begins to spiral as he shares a drunken kiss with Josh. Ben finds himself drifting from Polly and tries to find comfort in Lisa. Troy and Precious face an obstacle in their attempt at marrying.
Unknown
Episode Seventeen
4th December 2006
Adam faces a race against time to get to the church for his wedding to Millie. Troy is left surprised to find that Precious isn't just in love with him - she is obsessed with him! Lisa unknowingly finds herself in danger, but Burton tries his hardest to save her.
Unknown
Episode Eighteen
11th December 2006
Adam is horrified when he is accused of abusing Josh. Stella makes Lisa an offer. Polly plans an escape for her and Ben, whilst Tank Top and Debbie are caught by Polly.
Unknown
Episode Nineteen
18th December 2006
Lisa is bundled into the back of a car by strange men. Josh is suspended over his false accusations. Precious continues to worry about the immigration officials, whilst Debbie receives a surprising visitor.
Unknown
Episode Twenty
18th December 2006
Lisa's attempt to escape results in disastrous consequences. Josh prepares for his happy ending, but Adam leaves him shocked. Debbie learns the truth about Louise, whilst Troy learns that Burton's betrayal has cost him his family.
Unknown
Production
[
]
The series starred a number of well-known actors, mostly from other soap operas. Brookside's Philip Olivier, Emmerdale's Claire King and Coronation Street's (which creator Daran Little previously worked on) Lee Warburton also appeared in regular roles of the show.
Many former and future stars also appeared in the programme. This includes Effie Woods (Emmerdale), Denise Welch, Margi Clarke, Kym Marsh, Oliver Mellor and Debbie Rush (Coronation Street), as well as Paula Wolfenden who would later appear in Hollyoaks in the recurring role of Trish Minniver.
A second season was planned for the series, but it was announced on 16th November 2006 that the series had been cancelled by Channel 4 due to low viewing figures.
Notes
[
]
The theme tune of Hollyoaks: In The City was "Next to Me", performed by Shayne Ward (the husband of future Hollyoaks actress Sophie Austin.