We're Getting Mutants in the MCU - The Loop
Play Sound
Heidi Costello (née Blissett) was the daughter of Joan Blissett and Silas Blissett, the sister of Wendy Blissett, the wife of Carl Costello and the mother of Riley, Seth and Jason Costello.
Biography
[
]
1974-2010: Early Life
[
]
Heidi Blissett was born to Silas and Joan Blissett in 1974. Her sister Wendy was born afterwards. Heidi fell out with her aunt Trish Minniver after Carl Costello broke up with her and married Heidi. Heidi gave birth to three children by Carl: Riley in 1992, and twins Seth and Jasmine in 1995. Shortly after Riley's birth, Joan was murdered in what was believed to have been a burglary.
2010: Arrival
[
]
Celebrity former model Heidi arrived in Hollyoaks alongside her family in July 2010, after Carl impulse-purchased The Dog in the Pond. She immediately got off on the wrong foot with barmaid Cheryl Brady, and fired her after catching her flirting with Carl. By chance, Heidi encountered Carl's estranged daughter (from a previous marriage) Jem, managing to reconcile her with Carl. They were soon later joined by Heidi's cousin, glamour model Mitzeee Minniver, and Jasmine, who had been staying with Heidi's sister Wendy in America.
After being snubbed, Heidi ended up forming a rivalry with Cincerity owner Cindy Cunningham. She challenged Cindy to a competition at Heidi's charity fashion show: Cindy's vintage clothing vs. Heidi's high street clothing. Heidi won the fashion show, but Mitzeee - out of spite - revealed her former affair with Carl over the loudspeaker. Although initially furious, Heidi eventually forgave both Carl and Mitzeee. After Cindy left the village, Heidi purchased Cincerity alongside Gabby Sharpe, but the two business partners clashed. Gabby left the village for good in January 2011, leaving Heidi as the sole owner.
2010-2011: Family Troubles and Death
[
]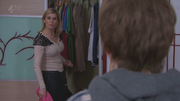 Upon Jasmine's revelation that she had decided to transition into a boy and undertook the identity of "Jason", Heidi took the news badly. When Silas arrived in the village, Jason was hurt when Heidi refused to tell him about Jason's new identity. Heidi decided to check Jason into a gender identity disorder clinic, believing that this would "cure" Jason instead of allowing him to be himself. When Jason realised that Heidi did not actually accept his new identity, he jumped in front of a car in a suicide attempt driven by his ex-boyfriend Bart McQueen. Bart made Heidi see the torment Jason was going through whilst living as "Jasmine", and Heidi came round to the idea of "Jasmine" becoming Jason.
After accidentally spilling boiling water on herself, resulting in scarring on her chest, Heidi began to feel insecure about her body and was comforted by a smitten Gaz Bennett. The pair ended up sharing a kiss and Heidi began looking after Gaz, buying him new clothes and hiring him at The Dog in the Pond. Carl became suspicious over Heidi's behaviour and worked out that she was having an affair, but accused Doug Carter. Heidi told Carl that she was not cheating on him with Doug, and Carl - apologetic for neglecting Heidi - arranged for them to stay at a hotel. Gaz snuck into the hotel and he and Heidi slept together before Carl arrived, with Gaz forgetting his watch as he snuck out. The watch was sent to 1 Stockton Lane, causing Jason to learn of the affair. He attacked Gaz and ordered Heidi to confess to Carl, which she did.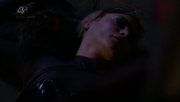 Riley's fiancée Mercedes Fisher revealed that she had been having an affair with Carl whilst at the altar, so Heidi decided to end her and Carl's marriage. The family were left devastated as Heidi confirmed that she decided to divorce Carl, and she attended a Halloween party at The Loft, dressed as Catwoman. However, whilst leaving, Silas - under the belief that she was Lynsey Nolan as the pair were wearing the same costumes - struck her with a brick and strangled her to death. Silas was left horrified at what he had done, deciding to also murder a pregnant Mercedes who he had kidnapped (although he changed his mind). Lynsey told Riley that she believed that Silas killed Heidi, smashing Joan's urn and unveiling him as the village's serial killer. Riley attacked Silas but was restrained by police, who arrested Silas for Heidi's murder.
Appendices
[
]
Residences
[
]
Employment History
[
]
Background Information
[
]
Actress Kim Tiddy was headhunted for the role of Heidi by series producer Paul Marquess. Marquess had previously worked with Tiddy after casting her in The Bill in 2003.
In October 2011, it was revealed that Tiddy had quit the role of Heidi, with her final scenes airing at the end of that month.
Introduction Sequence
[
]
Despite being a regular character, Heidi does not appear in the introduction sequence.
Quotes
[
]
---
"
I love you. Right, I've got a party to go to!
"
See Also
[
]
Gallery
[
]