Spider-Man: No Way Home Trailer Dropped - The Loop
Play Sound
Fergus Collins was a corrupt businessman, and the fiancé of Trish Minniver.
A former associate of Brad King, Fergus soon managed to inherit his empire after Brad attempted to double-cross him. Striking up a partnership with Warren Fox, Fergus refused to let anything get in his way of his goals of owning businesses and making a profit from invasive live-stream "Bluebird" with technician Timmy Simons.
His desperation for wealth ultimately lead to his downfall after Trish discovered that Fergus had attempted to traffick her daughter Maxine. Fergus realised that Trish was attempting to record a confession to send him to prison and prepared to kill her, only for Maxine to burst in and strike Fergus with a champagne bottle. Fergus fell and hit his head on the counter, which killed him.
Fergus owned nightclub The Loft and public house The Dog in the Pond, held the lease for five stores in the Price Slice chain, and was the landlord of 8 Weirside View and 67 Christleton Terrace until his death.
Biography
[
]
2021: Arrival
[
]
Fergus arrived in Hollyoaks in March 2021, meeting with Brad King over a plan to perform a robbery on a van transporting high-end laptops. Brad recruited Warren Fox and Felix Westwood for the heist, but the trio kept the money for themselves. Fergus later confronted Brad: telling him that Brad was to sign over his businesses and properties to Fergus, or Fergus would submit his evidence to the police and have Brad arrested. Brad agreed to sign over his businesses, and left the village afterwards.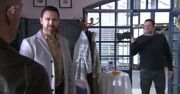 Recruiting Warren to work as his associate, Fergus purposely causes a gas leak in newly-inherited 2 Oakdale Drive as an excuse to install carbon monoxide detectors and a hidden camera in resident Peri Lomax's bedroom - the camera transmitting a live video feed for "Bluebird", a subscription service allowing users to access videos of women in bedrooms and bathrooms. Fergus later hired Shaq Qureshi to work for him, but convinced Shaq that he lost an expensive ring and therefore owed Fergus £100,000. Shaq was unable to pay the money, so Shaq's aunt Misbah Maalik sold her house to Fergus to clear the debt.
A woman, Katja, learned of "Operation Bluebird" and blackmailed Fergus. A furious Fergus ordered Warren (who recruited Felix) to kill Katja, but Katja worked out their plan, resulting in Fergus being forced to pay her £1,000 a month.
2021: Continued Reign of Terror
[
]
Fergus next set his sights on the local nightclub The Loft (owned by Felix's girlfriend Grace Black), being the optimum location for "Bluebird". Grace refused to sell to Fergus, so Fergus sabotaged the new sign for the building, which Felix had recently installed. The sign ended up collapsing on Darren Osborne, leaving him seriously injured. Not having public liability insurance, Fergus offered to purchase part of the club, but Grace unknowingly signed her whole share of The Loft to Fergus. Grace, vowing to get the club back, subsequently ignited a feud with Fergus.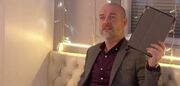 Fergus later reconciled with ex-girlfriend Trish Minniver. With Warren dating Trish's daughter Maxine, the quartet ended up getting closer together. Managing to obtain the leases for four Price Slice stores in North-West England, Fergus had "Bluebird" technician Timmy Simons visit Hollyoaks Price Slice leaseholder Walter Deveraux, pretending to be an estate agent. Walter refused to sell to Fergus, so he and Warren concocted a plan for Warren to burgle Price Slice, which went wrong when Walter walked in on Warren and Warren shoved him to the floor in a bid to escape. However, Walter ended up handing over the lease to Fergus.
Having already turned Warren against Felix, Fergus also attempted to turn Warren against his son Joel Dexter when Joel learned of the robbery. Maxine attempted to sort Warren's financial records, and found suspicious documentation for "Bluebird", which she told Trish of and confronted Fergus over. Fergus told Maxine that the business was a digital business, which he had kept secret as he was uncertain of its success. After Maxine had an argument with Warren, she and Fergus got drunk together, and Fergus convinced her that they had slept together (when in reality, they had not). Maxine attempted to confess to Trish, but Fergus interrupted and proposed marriage to an overjoyed Trish. He also convinced Maxine to break up with Warren.
Fergus next set his sights on The Hutch, but owner Tony Hutchinson was unwilling to sell to Fergus. Fergus began having financial issues and tried to enlist Warren to help him with a drugs raid, but Warren outrightly refused as his sister had died of a drug overdose in 2014. Timmy returned to inform Fergus that Bluebird's firewall was under attack, with Fergus planning an impromptu getaway to Mexico. Upon returning, Fergus found a voicemail on Joel's phone of Warren confessing to the murder of Brody Hudson, which Fergus deleted in a bid to keep Warren on side.
2021: Trafficking, Framing Warren & Death
[
]
Discovering that Timmy had revealed to Peri and Juliet Nightingale that hidden cameras had been planted in their house, Fergus pretended to comfort him before shooting him in the back of the head, killing Timmy. He then forced Warren - who witnessed the murder - to help bury his body. Warren decided to help Fergus with the drugs job. Whilst waiting for the van, a mystery caller warned Fergus that the police were aware of the robbery, with D.S. Cohen and P.C. Franks confronting but failing to find drugs in their van outside of Warren's Wheels. Warren told Fergus that he had discovered that Felix had informed the police of the robbery, to which Fergus gave Warren a gun and told him to kill Felix. Unbeknownst to Fergus, Warren could not go through with the murder, with Fergus not finding out until spotting Felix exiting the Weirside View apartments.
Fergus was later contacted by an associate, who advised him to close down Bluebird. However, as he did so, a user named "£ugardaddy66" contacted Fergus and offered to purchase Maxine for £1,000,000. Fergus agreed and carried out his plan to have Maxine kidnapped and trafficked. Joel, working with James Nightingale, soon discovered the full truth behind Bluebird and Warren confronted Fergus. With Fergus at risk of being caught out, he told Warren about Maxine being sold and told him that if he wanted to find Maxine, he would need to keep Joel quiet. Warren agreed and Fergus lead him to a shipping yard where Maxine was being held. Joel ultimately decided to go to the police anyway, but Fergus claimed that Warren was behind the trafficking and Operation Bluebird as all of the documentation was in his name, leading to Warren's arrest.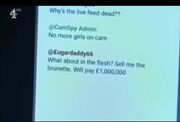 Fergus is smug as he thinks his seemliy gotten away with such a heinous crime he supports a devastated Maxine. Fergus does his best to rush him and Trish of too Mexico especially when '£ugardaddy66' starts to put more pressure on Fergus. He also threatens Felix that he will harm The Deveraux's is he goes to the Police eventually Fergus gets fed up of Joel trying to tarnish him so he visits Warren and threatens to kill Joel if Warren does not get him to back off also while at the Prison, Fergus is seen to know the Prison guard Mr. Acton which after his visit Fergus rings Acton and orders him to have Warren killed by the next working day. Fergus rings Acton and reminds him to go through with it.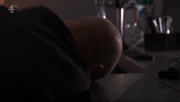 During all this Fergus is unaware that Trish has discovered the truth that he was the one behind the Blue Bird Camera Operation and the Trafficking of Maxine and plans to get Fergus to confess to all the crimes. Fergus prepares to leave for Mexico but Trish stops him in his tracks that she knows everything from Blue Bird to the Trafficking. Fergus is taken aback but Trish leads him to thinking that shes onside his dodge dealings but when Fergus clicks on that Trish has double crossed him he orders her to remove the wire and tells her his disappointed he then tells Trish his murdered countess people including Timmy after Trish tries to reason with Fergus this leads Trish to be shocked as Fergus goes to kill Trish Maxine walks in and orders him to stop after a brief raise of voices Fergus goes to attack Trish to which Maxine picks up a champagne bottle, killing him. D.S Cohen takes no further action after PC Frank's tampers with the confession tape and finally putting an end to Fergus' dangerous reign.
But Fergus still had the last say from beyond the grave when concerning Warren when its revealed when he and Warren where disposing of Timmy's body, Fergus sneakily recorded Warren digging the grave with Timmy's corpse nearby. Warren is re arrested and sent back to Prison as a result.
Kill Count
[
]
Murders
[
]
Timmy Simons, 13th October 2021 - Shot for nearly exposing "Operation Bluebird".
In Episode 5699 (14th October 2021), Fergus revealed to Warren Fox that Timmy was not his first murder victim.
Attempted Murders
[
]
Appendices
[
]
Residences
[
]
Employment history
[
]
Introduction Sequence
[
]
Fergus did not appear in the introduction sequence.
Quotes
[
]
"
I like the flash new office, Bradley. Very airy.
"
---
"
I know. It's okay, I've got your back.
"
---
See also
[
]