We're Getting Mutants in the MCU - The Loop
Play Sound
Felix Westwood is the husband of Martine Westwood and the father of Mitchell Deveraux, Toby and Celeste Faroe, and DeMarcus Westwood.
Felix was born in the mid-1970s, but spent most of his childhood in a care home in Manchester. Whilst there, he experienced racial abuse at the hands of social worker Cormac Ranger, which he took out on Warren Fox by bullying him. Felix later met Martine and she later fell pregnant, giving birth to triplets. Felix sold two of the triplets to Ramsey Ley before fleeing on the orders of Martine's father Walter Deveraux.
In March 2020, Felix arrived in Hollyoaks after Celeste tracked him down. Felix also encountered Warren, who he clashed with until revealing to Warren that Cormac was racially abusive in the care home. After learning the truth, Felix witness Warren attack Cormac, and Cormac died of his injuries four months later. Felix and Warren started to get along, with the pair purchasing a garage and running a mechanics business. He also eventually reunited with Martine and was forgiven by his children.
After Martine's niece Lisa Loveday was killed by Toby, Felix discovered that he and Celeste had covered up the crime. He helped them continue with the cover-up, attempting to throw Martine and police officer Nate Denby off the trail. However, Toby confessed shortly before Salon de Thé de Marnie exploded, killing Celeste and leaving Toby comatose.
Biography
[
]
1970s-2020: Early Life
[
]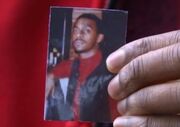 In his childhood, Felix grew up in a care home in Manchester. He was racially abused by one of the social workers, Cormac Ranger, and subsequently bullied Warren Fox (whom Cormac took a liking too). After leaving the care home, Felix became involved in crime and met Martine Deveraux in 1993. Felix scared Martine as he changed between being a charming young man and a violent thug, but the discovery that she was pregnant prevented her from leaving him.
Martine gave birth to triplets in March 1994, with Felix selling two of them to 'doctor' Ramsey Ley (who would name them Toby and Celeste Faroe) for £50,000. The third tripley - later named Mitchell Deveraux - was rejected by Ramsey as the doctors expected him not to survive long after birth. Felix left after Martine's father Walter Deveraux forced him to leave.
Felix continued his involvement in crime and was even incarcerated in the 2000s. He also embarked on a relationship with a woman named Viv, and Viv gave birth to their son DeMarcus in 2006.
2020: Facing the Past
[
]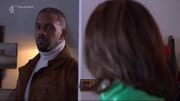 Felix arrived in Hollyoaks in March 2020, first meeting Grace Black after splashing her with a puddle. After taking her to lunch at The Hutch to apologise, the pair ended up exchanging numbers. Felix then turned up at 5 Oakdale Drive, Flat 3 to see Martine, resulting in her telling Celeste, Toby and Mitchell who Felix was. A furious Martine ended up punching Felix, Mitchell rejected him, and Toby and Celeste left after Felix told them about giving them to Ramsey Ley. Whilst leaving, Felix came face-to-face with Warren in the corridor, also receiving a punch to the face from him.
Vowing to win the Deverauxes back over one by one, Felix purchased a delighted Mitchell a car. However, Mitchell's boyfriend Scott Drinkwell realised that the car was stolen, resulting in Mitchell disowning Felix. Struggling to get Mitchell's forgiveness, Felix blackmailed Walter into helping him win the family over by bringing Mitchell to The Dog in the Pond. Mitchell and Felix ended up partially reconciling over drinks, but Scott overheard Felix and Walter discussing the sale of Toby and Celeste and learned the truth.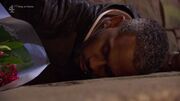 Despite sleeping with Grace after she separated a fight between him and Warren, Felix turned his attentions to Martine. Martine was left furious when she learned that Felix went on to have a son - DeMarcus - with another woman after leaving her, and ordered Felix to leave. Whilst at The Loft, Felix met Lisa Loveday and ended up sleeping with her, unaware that she was Martine's niece. Martine exploded the next morning in a public confrontation, with Toby learning that Felix actually sold him and Celeste. That night, Toby bludgeoned Felix with a pipe, leaving him comatose in hospital. To protect Toby, Celeste convinced D.S. Cohen that Mitchell was Felix's attacker, but Mitchell was released due to a lack of evidence.
2020-2021: Cormac and Lisa's Murders
[
]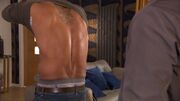 After Mitchell and Scott got engaged, Felix was adamant on covering the costs of the wedding, booking Thornoak Hall as the venue. He continued to flash his cash, purchasing Kyle Kelly's funeral flowers. This infuriated Warren who followed Felix home to confront him. Felix told Warren about the racial abuse he had received from Cormac whilst in the care home, including scarring from the beatings he had received. Cormac later confronted Felix, which Warren witnessed. Felix decided against going to the police but confided in Martine, who he ended up sleeping with despite having a relationship with Lisa.
On the day of Mitchell and Scott's wedding in September 2020, Lisa discovered that Felix had cheated on her with Martine and made plans to move to Ibiza. Intent on killing Mitchell, Toby went into room 13 of the hotel and bludgeoned Lisa to death with a fire poker, unaware she had switched rooms with Mitchell. Celeste and Toby covered up her death, but Felix became suspicious that they were involved in Lisa's 'disappearance'. However, Celeste spun Felix a story about Lisa leaving due to his affair.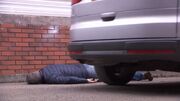 Felix attempted to make amends with Warren by purchasing Sylver's Workshop to convert it into a mechanics garage. The pair disagreed over the name and held a challenge in which the winner would name the garage, with Warren winning and naming the garage Warren's Wheels (which it was named before being purchased by Sylver). Upon learning that Cormac had returned to the village, Warren and Felix lured him to the garage in an attempt to make Cormac confess. Cormac ended up fighting with Brody Hudson, and Warren attacked Cormac when he prepared to strike Brody with a wrench. The pair dumped an unconscious Cormac outside of Dee Valley University Hospital and forced Brody to keep quiet about what happened.
Becoming concerned for Celeste after finding her acting strangely and nursing a sore arm, Celeste ended up revealing to Felix that Toby killed Lisa. Felix planned to go to the police, but Walter fell ill and needed a kidney transplant, with Toby being his only match. Felix planned to go to the police after the transplant, but changed his mind when Ramsey Ley arrived in the village and trapped Toby in The Loft before she was arrested. A few weeks later, Felix was informed that Cormac had suffered a heart attack due to the injuries sustained from Warren's assault, and died.
2021: Reuniting with Martine
[
]
After Warren accepted a job stealing laptops for Brad King, Felix ended up briefly falling back into crime. After the van driver Katja escaped and ran over Maxine Minniver, Warren told Maxine about Felix's involvement and put his friendship with Felix under strain. Warren ended up associating himself with Brad's friend Fergus Collins, with Warren refusing to see Felix's true colours. After Fergus tricked Grace into signing over The Loft to him, a full-blown feud began between Felix and Grace, and Warren and Fergus.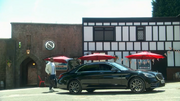 Felix planned to leave Grace for Martine, but his plans were dashed when Grace discovered a lump on her breast and worried that it may be cancer. Felix continued his affair with Martine, but ended up finding a lump on her breast when preparing to sleep with her. Whilst Grace received the all clear, Martine was informed that she did have breast cancer, and Felix supported her. Grace found the pair kissing and broke up with Felix, with Martine choosing Grace over him. After speaking to Walter, Felix was convinced to leave the village. However, he ended up returning less than a month later after receiving a call from Celeste.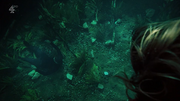 Arriving at Walter's birthday barbecue, Martine was initially cold towards Felix especially after DeMarcus turned up to confront Felix over leaving him again. Pursuing Martine in a canoe on the lake, DeMarcus accidentally crashed into Felix, causing the sail to knock Felix unconscious as he fell in the water. Martine rescued Felix and the pair reconciled, whilst DeMarcus forgave Felix out of guilt. Felix invited DeMarcus to move in with him, which he accepted.
Tensions between Felix and Warren hit a peak after Felix discovered that Warren was the Price Slice burglar who attacked Walter during the robbery. With Felix threatening to go to the police, Warren threatened to harm DeMarcus, but Fergus convinced Warren that he needed to kill Felix. Kidnapping Felix and taking him to the woods, Warren prepared to shoot Felix but the gun was deflected by Warren's son Joel Dexter, who made Warren realise that Fergus had manipulated him. The trio (and Grace) decided that Felix would disappear until evidence could be found to incriminate Fergus. Martine discovered the plan and Felix proposed to her before they planned to leave together. However, Martine became unwell and they decided that Felix needed to leave alone.
Felix returned in November 2021 as Martine underwent a masectomy, despite Fergus having not yet been captured. Upon Fergus discovering that Felix was not dead, Fergus framed him for trafficking Maxine and running a perverted secret camera streaming service. Joel enlisted Felix and Maxine into helping them get the charges against Warren dropped, but Maxine ended up killing Fergus in defence of her mother Trish.
2021-2022: Secrets Revealed
[
]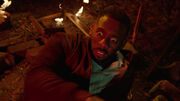 Felix's troubles were not over as Saul Reeves - the nephew of Lisa's kidnapper Margaret Smith - learned that Felix, Toby and Celeste were involved in Lisa's death. As Felix married an oblivious Martine and the pair left for their honeymoon, Saul proved to be a continuing threatening presence. Saul confronted Toby and Felix after accusing Toby of killing Lisa, to which Felix lied that Lisa died by suicide by drunkenly drowning in the ocean. However, Lisa's body was found in Croxford Woods and Celeste framed Mitchell for the crime. Felix reluctantly went along with this until January 2022, when Toby confessed to killing Lisa shortly before Salon de Thé de Marnie exploded. Celeste was killed in the disaster, and Martine (whilst oblivious to Celeste's involvement) found out that Felix had known the truth the whole time. After Toby awoke from his coma, DeMarcus issued Felix an ultimatum: him or Toby. Felix chose DeMarcus and set up Toby to be arrested by the police, putting a strain on his marriage to Martine.
Determined not to fail DeMarcus as he did with his other children, Felix tried to get him involved with working at Warren's Wheels. Feeling pressured by Felix, DeMarcus broke into Hollyoaks High School and collapsed after finding and drinking vodka, and Felix managed to bond with DeMarcus over boxing. After DeMarcus complained about the lack of activities for teenagers in the village, Felix decided to establish a youth club with Scott. After Toby was transferred to a prison in Dorset, Felix refused to move with Martine to be closer to him, so she decided to end their marriage and leave on her own.
After losing Martine, things took a turn for Felix; especially after being locked in a classroom with Nancy Osborne, who went into labour. Assisting in the delivery of her daughter Morgan, Felix vowed to be a better father to DeMarcus. Felix was left unaware when DeMarcus began arming himself with a knife to protect himself against bully Joseph Holmes. The knife was later used to fatally stab Saul, and DeMarcus was left prime suspect. Felix believed that DeMarcus was innocent and fought to get him cleared, which created a rift between Felix and Zoe Anderson - the granddaughter of Pearl Anderson, a friend of Walter's who (along with Pearl) was living with Walter, Felix and DeMarcus.
Appendices
[
]
Residences
[
]
Employment history
[
]
Other Information
[
]
Felix is a Liverpool F.C. fan.
Felix was initially mentioned to be older than Warren Fox, giving him a year of birth of pre-1975. However, Felix was later mentioned to have been seventeen in 1994, changing his year of birth to 1976 or 1977.
Background Information
[
]
Richard Blackwood did not have to audition for the role of Felix: Blackwood stated in an interview that producers approached him about the role instead.
Introduction Sequence
[
]
Quotes
[
]
"
Hire car - I'm not used to a manual. My Bugatti is being serviced... I don't have a Bugatti, and I'm an idiot y'know and... sorry. Nice boots! Here.
"

— First line, to

Grace Black

after splashing her with a puddle.
See Also
[
]
Gallery
[
]