Doctor Strange in The Multiverse o Madness - The Loop
Play Sound
Ethan Williams is the half-brother of Dave Chen-Williams, former partner of the late dangerous criminal Maya Harkwell, boyfriend of Leela Lomax and owner of Wham! Glam! Thank You Tan!.
Biography
2021-2022: Arrival
Ethan kidnapped Darren Osborne after he witnessed Ethan and his girlfriend Maya Harkwell performed a robbery on Marringcroft Jewellers in November 2021. The pair held Darren hostage in Brass Bath Hotel, but Ethan ended up getting along with Darren and defied Maya's orders to kill him. Maya prepared to kill Darren herself so Darren struck Ethan with the bathroom door and fled from the hotel, making it back to Hollyoaks. Ethan attempted to pay Darren to flee, but Darren refused and Maya agreed to spare him.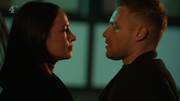 Ethan attended Christmas with his brother Dave's family, to the delight of his nephews and nieces as he generally did not attend family events. Maya also forced Ethan to bring her, with Dave's wife Honour taking a dislike to her. Ethan was left scared of Maya's continued threatening presence and conspired against her. When Maya found out what Ethan was planning, she prepared to kill Ethan's step-niece Serena. Ethan intervened and the pair scuffled over the gun, with Maya pulling the trigger and accidentally shooting herself dead.
Hiding her body in a Deadly Sheen Cleaning Co. van, Ethan took Maya's body to Oaks' Scrapyard to dispose of her body. However, Deadly Sheen owner Ste Hay and employee Sienna Blake tracked down the van, so Ethan blackmailed them into burying Maya's body. He then attempted to keep them quiet by proving to be a threatening presence: threatening to harm their families and even convincing Sienna that he ran down her ex-fiancé Warren Fox. Ethan later attended Damon Kinsella's poker night, where he gave Damon a loan so Damon could play against James Nightingale. Damon ended up losing so Ethan told him that he would wipe the debts if his girlfriend Liberty Savage sold Savage's Emporium to him, which Liberty agreed to do.
2022-: Continued Life of Crime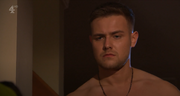 Ste and Sienna became concerned by the hold Ethan had over them as he continued to date Ste's sister Leela Lomax, with the pair being unable to break them up. Maya's parents reported her missing and Ste and Sienna moved her body as they worried that Ethan would end up accidentally confessing to the police. However, Ethan found one of Ste's unwashed gloves and blackmailed the pair, telling them that Maya had caused the Salon de Thé de Marnie Explosion to stop them from going to the police. Ethan decided to change Savage's Emporium into beauty salon Wham! Glam! Thank You Tan! to launder money. He initially hired Liberty to manage the business until Sienna took over on the promise that he would leave Ste and their families alone.
After learning that his nephew Sam Chen-Williams had been attacked by Warren, Ethan attempted to beat Warren with a crowbar but was ultimately overpowered by him. Warren ended up blackmailing Ethan into finding out his hit-and-run driver, but took a further interest upon learning that Ethan was in the business of selling prescription medication. Ethan ended up going against his promise to Sienna as he paid for Liberty to set up a stall in The Cunningham Grande Bazaar to clean the laundered money. After discovering an inconsistency in the accounts, Ethan confronted Sienna and Ste and revealed that the money belonged to his boss, "The Undertaker". The Undertaker threatened to kill the trio, but decided to spare them after killing Asher Jones for being a police informant. However, she told Ethan that he would no longer be working for her.
Kill Count
Murders
None
Connected Murders
Maya Harkwell, 12th January 2022 - Shot herself during a struggle with Ethan as she attempted to shoot Serena Chen-Williams. He then ordered Sienna Blake and Ste Hay to bury her body.
Attempted Murders
Ste Hay, 19th January 2022 - Held him and Sienna Blake at gunpoint after they found about Maya Harkwell's death, but was talked out of killing them by Sienna as she suggested they bury her body.
Sienna Blake, 19th January 2022 - Held her and Ste Hay at gunpoint after they found about Maya Harkwell's death, but was talked out of killing them by Sienna as she suggested they bury her body.
Appendices
Residences
Employment History
Background Information
In an unusual move, Matthew James-Bailey's casting as gangster Ethan was announced after the character's debut. A few weeks later, Ethan was revealed as a new regular character.
Introduction Sequence
Quotes
See Also
Gallery