We're Getting Mutants in the MCU - The Loop
Play Sound
Damon Kinsella is the son of Maggie Kinsella and Buster Smith.
Damon remained blissfully aware of his parents secrets throughout his childhood: only discovering that his mother was a prostitute who had a son - Scott Drinkwell - before him in 2017, and that his father sexually abused his best friend throughout his childhood in 2018. He also remained unlucky in love: an affair with her mother destroyed his relationship with Holly Cunningham, whilst his marriage to Maxine Minniver was built on a lie for which Damon faced most of the consequences of.
However, he has since begun a relationship with Liberty Savage, which has currently survived Liberty giving birth to Brody's baby, Summer Ranger's reign of terror, and Damon's gambling addiction (which cost Liberty her late father's business). He now solely owns The Love Boat, which he runs with help from Liberty as well as employees Sid Sumner and Lizzie Chen-Williams.
Biography
[
]
1992-2017: Early Life
[
]
Damon was born in September 1992 to ex-prostitute Maggie Kinsella and professional footballer Buster Smith. Damon befriended Brody Hudson and grew close to him. After discovering that Buster was sexually abusing Brody, Maggie divorced Buster but kept the truth hidden from Damon.
2017-2018: Family Drama
[
]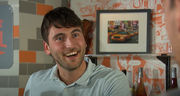 In June 2017, Damon answered a phone call from Scott Drinkwell, leaving Scott alarmed when he revealed that he was the son of Maggie. He met Scott at Duke Street Social Club in July, where Damon worked as a barman. Damon ended up befriending Scott, but was left stunned when he discovered that Scott was a secret son Maggie had given birth to in 1987. Initially rejecting both Scott and Maggie, Brody ended up reconciling Damon with his mother and new-found brother. Damon also ended up settling into the village after being hired at The Dog in the Pond and beginning a relationship with the proprietor's daughter Ellie Nightingale. After a few months, the pair decided to remain friends.
After separating from Ellie, Damon began dating Holly Cunningham. After accusing Brody of having a relationship with Maggie, Damon and Scott were informed that she had been diagnosed with terminal cervical cancer. The trio spent Maggie's final days checking off her bucket list, until she passed away from pneumonia on a bench outside of The Dog in the Pond in January 2018. Buster arrived to see Damon after his mother's death, with Holly convincing Damon to give Buster a chance. After receiving £20,000 from Maggie in her will, Damon proposed to Holly, who accepted. The pair planned for a July wedding, but matters were complicated when Damon lost a significant sum whilst gambling with Glenn Donovan. Damon also slept with Cindy Cunningham, with Damon confessing to Holly at the altar. A devastated Holly jilted Damon and the pair separated.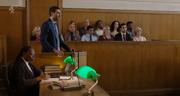 When Brody discovered that Oliver Morgan was being sexually abused by Buster, he encouraged Oliver to join him at the police station to report Buster together. Damon did not take the news of the accusations against his father well and ended his friendship with Brody until realising that Brody's version of events matched up with Damon's memory. After Brody's case was dropped due to a lack of evidence, Damon decided to lie that he overheard Buster confess during an argument with Maggie, creating tensions between him and his love interest Maxine Minniver. At Buster's trial in January 2019, Damon was caught lying at the stand and ended up being charged with perjury, whilst Brody's charges were dropped.
2018-2019: Relationship with Maxine
[
]
Damon became concerned for Maxine when she collapsed from alcohol poisoning, and the pair ended up forming a relationship. Damon and Brody also purchased Lisa's Love Boat, re-branding the business into The Love Boat. However, things took a turn for Damon he found Maxine unable to move her legs in February 2019. Damon supported her as she underwent tests at Dee Valley University Hospital, but the results returned clear despite Maxine's persistent symptoms. The doctors ended up suspecting that Maxine was suffering from a rare illness, such as Creutzfeldt-Jakob disease. However, prestigious doctor Levi Rochester ended up diagnosing Maxine with Munchausen syndrome, which she kept secret from Damon.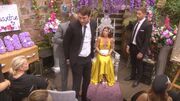 Fearing that he and Maxine were running out of time together, the pair quickly became engaged and married in July 2019. After lying to Damon that she had developed a tumour on her spine, Maxine told Damon that her condition was terminal and Damon arranged for her to have a living funeral. Damon ended up withdrawing money from the fundraising account to fund the funeral and a holiday afterwards, which alerted the police who arrested Damon for fraud. With Damon facing a lengthy prison sentence, his friends and family searched for evidence to prove to the court that Maxine was dying. However, Scott ended up finding a letter which proved that Maxine was not actually ill. Damon was sentenced to six months in prison, but was released early in November 2019.
After his release, Maxine attempted to make amends with Damon, who rejected her and informed her of his intentions to file for divorce. Maxine's friend Liberty Savage attempted to reunite the pair, but Damon did not believe that Maxine had changed after learning that she had relapsed whilst visiting her sister Mitzeee in the United States. After finding Maxine taking medication after developing a cold, Maxine gave up the fight for Damon and agreed to annulling their marriage.
2020-: Relationship with Liberty
[
]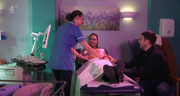 Damon ended up growing closer to Liberty, especially during a search for Brody after he was kidnapped by Warren Fox, the ex-fiancé of Brody's girlfriend Sienna Blake. After Sienna kidnapped her and Warren's twins, Damon comforted an upset Liberty, who was pregnant with a baby that she planned to give to Sienna and Brody. Damon ended up attending baby scans when Brody was too busy searching for Sienna to attend, and the pair ended up beginning a relationship. After giving birth to a daughter, Faith, in September 2020, Liberty decided to keep the baby.
After Liberty went missing in June 2021, Damon desperately searched for her. In August 2021, Damon discovered that Summer Ranger had been keeping her captive in a storeroom at Lock It Up, but was also kidnapped by Summer. After Brody enlisted Cindy's help, Damon and Liberty were rescued, but Summer went missing after Liberty shot her in Sienna's defence. In September 2020, Summer made a re-appearance in a final act for revenge, but was caught by the police. However, Brody was run over and killed by a hit-and-run driver, leaving Damon devastated. Damon ended up becoming a father figure to Faith, but promised to ensure that Faith would always know who her biological father was.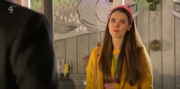 Attempting to keep The Love Boat afloat by himself, Damon ended up developing a gambling addiction after a success of wins. He ended up borrowing from gangster Ethan Williams, but lost in a game of poker to James Nightingale. Ethan demanded that Liberty gave him Savage's Emporium to clear Damon's debts, which she did. Liberty exploded at Damon and told him what his gambling had cost her, and he managed to discontinue gambling. After putting things right with Liberty, Damon began to struggle with feeling forced out of Faith's life when Warren and Sienna reconciled. Liberty suggested that Damon adopted Faith, which did not go down well with Sienna. However, Warren made matters worse when Liberty realised that Warren had threatened Damon into changing his mind, then convinced Sienna that Damon had murdered Brody. Liberty decided to cut Sienna and Warren out of her, Faith and Damon's lives.
Sienna soon discovered that Warren was Brody's killer and went to Damon, who initially did not believe her. He convinced Sienna to report Warren to the police, but Joel Dexter managed to get rid of the remaining evidence. Damon ended up walking in on Sienna carrying out her plan to poison Warren with a drug overdose, and struck Warren with a wheel brace when he began strangling Sienna. Believing him to be dead, Sienna convinced Damon to help her dump Warren's body in a skip, but the pair were left unaware that he was actually alive.
Appendices
[
]
Residences
[
]
Employment history
[
]
Background Information
[
]
Jacob Roberts's casting as Brody Hudson's "best mate" Damon was announced in May 2017.
In October 2018, a "serious illness" storyline was announced for Damon. However, this storyline did not take place on-screen. It is possible that it was cancelled to allow for Maxine Minniver's 'Munchausen's syndrome' storyline to take place.
Introduction Sequence
[
]
Quotes
[
]
See Also
[
]
Gallery
[
]