Wiki Targeted (Entertainment)
Play Sound

Cher McQueen (née Winters) is the daughter of Kelly Winters and Sylver McQueen. Cher is the half-sister of Liza Winters, Jake Winters and three other half-siblings.
Cher was born to a dentist who worked in a prison, and later ended up with four half-siblings. Her mother initially kept her paternity secret from her. Kelly often neglected her children, so Cher assumed the role of looking after them when Kelly was unable to. During an argument, Kelly revealed that she had a temper "just like [her] father", which prompted Cher to begin searching for him.
Biography
[
]
2020-: Arrival in Hollyoaks
[
]
Cher arrived in the village in June 2020 and watched Warren Fox, Mercedes and Sylver McQueen from afar. She attended Sylver and Mercedes's vow renewal, where she, in private, told Warren that she was his daughter. Warren informed Cher that he was in prison when Cher was conceived, and was insistent that he as not her father. Cher later met Romeo Nightingale, and the pair were left smitten by each other. Romeo told Cher where to find Warren, so she went upstairs to the flat. Cher confronted Warren and searched the wallet by him, where she pulled out Sylver's card, leading Warren to realise that Sylver is her father.
Warren tried to get Cher to leave, but Cher interrupted the vow renewal and publicly revealed that she was Sylver's daughter. A confused and angry Sylver was adamant that he was not Cher's father, and got angry with Cher. Cher then stormed off in disgust.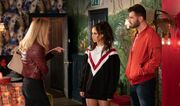 The next day, Sylver's adoptive sister Goldie McQueen arrived at the flat with Cher, having given her a place to stay. She privately told Sylver that she wanted £3,000, and then she would leave. Sylver agreed, but later found Cher's mum, Kelly, in The Dog in the Pond. After telling the truth to Mercedes, Cher declined the £3,000 and accepted Sylver's opportunity to get to know him better. However, she was shocked when Kelly revealed that she was moving to Greece and taking her other children before, and was leaving Cher with Mercedes and Sylver the next day Cher attempts to steal a necklace from Mercedes in which Mercedes catches her doing so Sylver is left in a pickle when Cher tells him that he hasn't earned the right to give her 'the dad talk' after which Sylver approaches Mercedes who later confronts Cher the two talk and eventually Mercedes manages to get Cher working behind the bar meanwhile Romeo and Tom Cunningham start to put a plan in action for Romeo to make an impression on Cher. Romeo gives Cher his number, but she gives it back to him, rejecting him once again. In September 2020, Romeo tells Cher that he needs another job, so Mercedes offers him a part-time job at The Dog. Later, Goldie sees that Romeo and Cher really like each other and recruits her fiancé Joel Dexter to help her play matchmaker. Cher and Romeo later realise that Joel and Goldie have tried to set them up and Cher insists that her and Romeo are just friends. Upon hearing this, Goldie vows to get Romeo and Cher together. The next day, Romeo invites Cher to Imran's party with him. Romeo is delighted when Cher shows up and the two of them grow closer. In October 2020, Tom and his girlfriend Yasmine Maalik play matchmaker between Cher and Romeo, which doesn't go so well but at the end of the day Cher asks Romeo if he's like to go on a date with her sometime, and Romeo accepted.
2020-: McQueen's blackmailed & Killer secret reveal
[
]
The McQueen family consisting of Mercedes, Sylver, John Paul McQueen, Goldie McQueen, Theresa McQueen, Nana McQueen and Cher all receive a series of text messages from an unknown blackmailer threatening to make them pay for their 'deadly sins'. In October 2020, the blackmailer sends the McQueen family a doll reading out the seven deadly sins: pride, lust, envy, greed, gluttony, wrath and sloth, and demand £700 or else they will reveal their 'sins'. The McQueens vote and Cher votes that they pay but a majority vote 'no' and the blackmailer then demands £7000 per sin and they have 18 hours to pay for the first sin: wrath. The McQueen's pay up but later that day Sylver is arrested for the murder of Breda McQueen. Cher demands to know why Sylver was arrested but Goldie and Mercedes tell her that it was a misunderstanding, but Cher doesn't believe them. When Sylver arrives home the next morning after the police let him go for lack of evidence, Cher asks why he was arrested. At first, Sylver tries to lie to Cher but then decides that there have been enough lies and tells her the truth about how he killed his mum, which leaves Cher shocked. Cher then confides in Sylver about how she killed her sister Liza by pushing her into a pool in a fit of rage for ruining a special moment between Cher and her mum but then tried to save her but was too late. Sylver promised Cher that he won't tell anyone about what happened with Liza and tells her that it wasn't her fault as her mum shouldn't have left her unsupervised.
2020-2021: Blackmail/Trolling and Jealousy of Mercedes
[
]
This section is currently missing or incomplete.
This section is currently missing content, or is presently incomplete. You can help the Hollyoaks Wiki by
adding content
to this section.
Kill Count
[
]
Murders
[
]
Liza Winters, prior to 2020 - Drowned after Cher shoved her into the deep end of a swimming pool in a fit of rage because Liza ruined a special moment between Cher and their mum Kelly Winters. Cher tried to save Liza but it was too late.
Attempted Murders
[
]
None
Appendices
[
]
Residences
[
]
Employment history
[
]
This section is currently missing or incomplete.
This section is currently missing content, or is presently incomplete. You can help the Hollyoaks Wiki by
adding content
to this section.
Background Information
[
]
Introduction Sequence
[
]
Quotes
[
]
"
It's not a drink I'm after, dad.
"
See also
[
]
Gallery
[
]