We're Getting Mutants in the MCU - The Loop
Play Sound
Cher McQueen (born Winters) is the daughter of Kelly Winters and Sylver McQueen. Cher is the half-sister of Liza Winters, Jake Winters and has three other half-siblings.
Cher was the result of a fling between prison dentist Kelly and inmate Sylver. Kelly raised Cher as a single mother and went on to have more kids, but neglected them all. Cher developed a jealous streak which resulted in the death of Liza, causing her mother to develop a hatred for her. Cher ended up deciding to track down Sylver, successfully finding him and moved in with him after being abandoned by Kelly.
Cher's jealous streak continued as she vied for Sylver's attention against his wife Mercedes. Cher made Mercedes appear mentally unstable after suffering a miscarriage, but Mercedes forgave Cher after learning the truth. Cher began a relationship with Romeo Nightingale, splitting with him after his affair with Mercedes. This reignited Cher's jealous streak, this time ending with Sylver in hospital, having had a cardiac arrest from Cher's poisoned cocktail. Mercedes ending up evicting Cher.
After outstaying her welcome whilst living with friends Tom and Yasmine Cunningham, Cher felt unwanted and attempted suicide by jumping into the pond. Sylver, having witnessed the jump, managed to rescue Cher. As Cher recovered in hospital, she reconciled with the McQueen family. A few months later, Sylver told Cher of his plans to move to Alicante, but he returned for her. Sylver was later killed in the Salon de Thé de Marnie Explosion and following his funeral, Cher decided to move to Greece to reconcile with her mother.
Biography
[
]
2002-2020: Early Life
[
]
Cher was conceived during a one-night-stand between prison dentist Kelly Winters and inmate Sylver McQueen in 2001. Cher was born in February 2002, but Kelly kept her paternity secret. Kelly went on to have four more children but often neglected them, leaving Cher to look after them. Cher ended up vying for her mother's attention, often held by her sister Liza. During an argument with Liza, Cher pushed her into a pool and Liza drowned.
The incident caused Kelly to turn on Cher. In an argument between the pair, Kelly commented that Cher had a temper like her father, prompting Cher to begin a search for him.
2020: Arrival in Hollyoaks
[
]
Cher arrived in the village in June 2020 and watched Warren Fox, Mercedes and Sylver McQueen from afar. She attended Sylver and Mercedes's vow renewal, where she, in private, told Warren that she was his daughter. Warren informed Cher that he was in prison when Cher was conceived, and was insistent that he as not her father. Cher later met Romeo Nightingale, and the pair were left smitten by each other. Romeo told Cher where to find Warren, so she went upstairs to the flat. Cher confronted Warren and searched the wallet by him, where she pulled out Sylver's card, leading Warren to realise that Sylver was her father.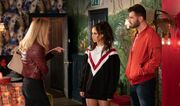 Warren tried to get Cher to leave, but Cher interrupted the vow renewal and publicly revealed that she was Sylver's daughter. A confused and angry Sylver was adamant that he was not Cher's father, and got angry with Cher. Cher then stormed off in disgust, later telling Sylver that she would leave permanently for £3,000. Cher's mother Kelly turned up, telling her about the move to Greece which Cher would not be joining the family with. Cher was forced to stay with Sylver and Mercedes, and began misbehaving.
Romeo Nightingale took an immediate attracion to Cher, but she initially rejected him, with the pair later becoming friends. Sylver's sister Goldie and her fiancé Joel Dexter attempted to set them up on the date, as did Romeo's friend Yasmine Maalik. After Yazz's attempt, Cher and Romeo began dating.
2020-2021: Secrets and Blackmail
[
]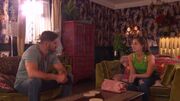 The McQueen family begin receiving mysterious text messages from an unknown number, later receiving a talking doll with the sender blackmailing the McQueens for their 'sins'. After the first sin - wrath - was revealed, Sylver was arrested for the murder of his mother Breda. He was released, but Cher was determined to find out what happened. Cher discovered the truth and confided in Sylver that her sister Liza had drowned in a pool, having been pushed in by Cher in a fit of jealous rage. Sylver later told Mercedes, who told the family when Cher was believed to be doll's target.
In February 2021, Cher had her first birthday party which Sylver could attend. However, Sylver was distracted by Mercedes and a jealous Cher starting clashing with Mercedes. She purchased cocaine from Oliver Morgan and planted it in Mercedes's bag, but was caught by Mercedes. After Mercedes also overshadowed Cher at her second party, Cher poured baby oil on the floor which Mercedes slipped and injured her back on. Cher's feud also consisted of her stealing Mercedes's credit card, burning Mercedes with hair straighteners and posting a sex tape of Mercedes on the internet.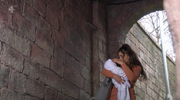 After Mercedes became targeted on social media, Cher made an anti-trolling video to support her. Cher ultimately became targeted by the trolls, with Mercedes inadvertently exacerbating the situation. Discovering the stillbirth of Gabriel McQueen, Cher began to make Mercedes believe that she was hearing babies crying, ordering baby products in her sleep and smashed a cot Sylver had made for Tony and Diane Hutchinson. Cher also kidnapped baby Eva Hutchinson, planting her in a cot next to a sleeping Mercedes. Mercedes subsequently checked herself into a psychiatric unit.
2021: Self-Harm and Suicide Attempt
[
]
Struggling to deal with the trolling, Cher began to obsess over a birthmark which the trolls commonly mentioned. After Sylver refused to help Cher get the birthmark removed, Cher attempted to use skin bleaching cream. She ended up burning herself but refused to go to hospital, with nurse Peri Lomax sneaking medication out of the hospital. Peri later inadvertently revealed to Mercedes (after discharging herself) that Cher had been tormenting her, with Mercedes agreeing to take the blame for everything as long as Cher got help.
In August 2021, Mercedes told Cher and Sylver that she had been having an affair with Romeo. Cher's online friend Jade told Cher to get revenge by spiking Mercedes's cocktail so the pub drinkers would get sick and blame Mercedes. However, Cher ended up overdosing the cocktail and Sylver suffered a cardiac arrest from drinking it. Cher admitted the truth and was evicted by Mercedes.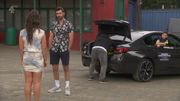 Cher temporarily stayed with friends Tom and Yasmine Cunningham, but left after feeling that she had outstayed her welcome. With nowhere else to go and feeling unwanted, Cher attempted suicide by jumping into the pond. Sylver rescued her and took her to hospital, and Mercedes invited her back to the family. Upon returning to The Dog in the Pond, Cher discovered that her step-brother Bobby Costello was "Jade". Mercedes and Sylver decided that the family needed to get away from Hollyoaks and took Bobby with them to Alicante, with Cher opting to remain in the village.
In October 2021, The Dog in the Pond landholder Fergus Collins decided to evict the McQueens and replace them with Tony and Diane. Cher helped the McQueens sabotage the Hutchinsons' grand opening, but eventually cutting a deal which saw the McQueens move into 4 Oakdale Drive.
2022: Sylver's Death and Departure
[
]
In January 2022, Cher refused to leave for Alicante with Sylver, but sending him a video message convinced him to return. Cher was injured in an explosion at Salon de Thé de Marnie and Sylver helped Mercedes rescue her. However, Sylver was killed after rescuing Bobby. In the aftermath of Sylver's death, Cher found comfort in Tom, who Cher gave advice about his marital issues. Comforting each other at The Loft, they ended up sharing a kiss.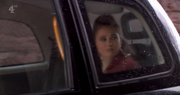 After Sylver's death, Kelly began contacting Cher, expressing interest in a reconciliation. After Sylver's funeral, Cher decided to leave for Greece: having already met her father and paternal family and wanting to reconnect with her mother and maternal family.
Kill Count
[
]
Murders
[
]
Liza Winters, prior to 2020 - (Manslaughter) - Drowned after Cher shoved her into the deep end of a swimming pool in a fit of rage because Liza ruined a special moment between Cher and their mum Kelly Winters. Cher tried to save Liza but it was too late.
Attempted Murders
[
]
None
Appendices
[
]
Residences
[
]
Employment History
[
]
Other Information
[
]
Background Information
[
]
Introduction Sequence
[
]
Quotes
[
]
"
It's not a drink I'm after, dad.
"
---
See Also
[
]
Gallery
[
]