2017 was Hollyoaks's twenty-third year of production.
Overview
[
]
Bryan Kirkwood remained in the role of executive producer for a sixth year, with Emily Gascoyne continuing as senior series producer (Vikki Tennant would be promoted to the same role in October) and Caroline Roby being promoted to series producer in October.
This year saw several high-profile returns and departures, with 1990s characters Luke Morgan and Mandy Richardson returning in July. This year also saw the debuts of the Maalik family, Diane Hutchinson's niece Lily Drinkwell, Darcy Wilde and her son Toby, best friends Damon Kinsella and Brody Hudson, as well as Donovan family patriarch Glenn Donovan.
Departing characters included Cameron Campbell who received a 104-year prison sentence, Nathan Nightingale who was pushed from scaffolding by his father Mac, John Paul McQueen who moved to Singapore with son Matthew-Jesus, Goldie and Mercedes McQueen, as well as Warren Fox, Mac Nightingale and Lisa Loveday. The explosion at Hollyoaks High School in October saw the death of Neeta Kaur, whilst Frankie Osborne died of a stroke upon learning that husband Jack was inside the building.
Events
[
]
Hollyoaks events
[
]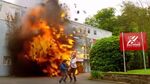 Real life events
[
]
To be added
Cast changes
[
]
Debuts
[
]
See also: Category:2017 debuts.
Returns
[
]
See also: Category:2017 returns.
Departures
[
]
See also: Category:2017 departures.
Episodes
[
]
See also: Category:2017 episodes.
See also
[
]