Wiki Targeted (Entertainment)
Play Sound
2012 was Hollyoaks's eighteenth year of production.
Overview
[
]
Emma Smithwick continued as series producer and Tony Wood continued as executive producer, both for a second year. Executive producers Lee Hardman and Carolyn Reynolds departed early in the year, with former series producer Bryan Kirkwood joining the programme as an executive producer later in the year.
Having worked on teen-oriented programmes The Cut and Shelfstackers, Smithwick decided to bring more of the teenage/young adult characters into the spotlight. The programme also saw a slower pacing, with character development being prioritised over dramatic content. Former Emmerdale showrunner Kathleen Beedles later joined the show as a story consultant and helped the programme migrate back to family units, with the pair devising iconic storylines such as Who Killed Lynsey Nolan? (after actress Karen Hassan quit the role), the Mercedes McQueen vs. Mitzeee Minniver feud, as well as Brendan Brady's past returning to haunt him. Smithwick also devised a ground-breaking bullying storyline with Esther Bloom, which played out until 2013. Beedles left the programme shortly before Kirkwood joined as an executive producer.
The first half of the year saw very little departures from the programme. Beth Kingston and Jeff Rawle reprised their roles as India Longford and Silas Blissett in a guest capacity, whilst Ashley Margolis (who had quit in 2011) made his final appearance in May having had his August appearances cut at the last minute. A bus crash - devised on a joke during a writers' meeting - saw the axings of Andrew Moss (Rhys Ashworth), Scarlett Bowman (Maddie Morrison), Tosin Cole (Neil Cooper) and Dylan Llewellyn (Jono). Calvin Demba (Scott Sabeka) left in August, Ashley Slanina-Davies departed briefly to focus on her studies, Dan O'Connor (Ally Gorman) was axed, whilst Hollie-Jay Bowes (Michaela McQueen) and Rob Norbury (Riley Costello) decided to leave the programme.
Events
[
]
Hollyoaks events
[
]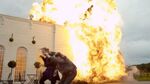 Real life events
[
]
To be added
Cast changes
[
]
Debuts
[
]
See also: Category:2012 debuts.
Returns
[
]
See also: Category:2012 returns.
Departures
[
]
See also: Category:2012 departures.
Episodes
[
]
See also: Category:2012 episodes.
See also
[
]