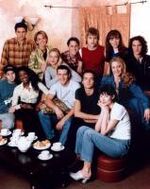 1996 was Hollyoaks's second year of production. In July 1996, the show went on a hiatus which lasted until September 1996. This was due to the show only being commissioned for 36 episodes to see how popular a teen soap opera would be. Upon the show's return, the show was broadcast twice a week, with a second episode being transmitted on Thursdays.
Early in the year, Channel 4 began pushing producers to tackle issue-based storylines, due to the soap not being viewed as seriously as other rival soaps. In March 1996, Hollyoaks's aired it's first issue-based storyline - the death of Natasha Andersen caused by an ecstacy overdose. The storyline was based off the death of Leah Betts, who died of an ecstacy overdose shortly after her eighteenth birthday. The storyline, although controversial, was very positively received among viewers.
Hollyoaks events
Edit
Real life events
Edit
Major Storylines
Edit
The Teens
Edit
Natasha Andersen died from an unintentional drug overdose after her drink was spiked by Rob Hawthorne and Dermot Ashton. The teens suspected that Rob played a role in Natasha's death, but Rob went unpunished due to the lack of evidence.
Rob Hawthorne and Dermot Ashton robbed a drug dealer's lock-up, in which they were caught and a car chase ensued. Dermot starting throwing money out of the window to get the dealers off their backs but Rob lost control of the car trying to stop him, crashing into River Dee. Dermot was killed in the accident.
The teens started to get revenge on Rob Hawthorne for Natasha Andersen's death when Lucy Benson lead Rob to the drug dealers whom he had stolen from. The drug dealers threw Rob off the roof of a multi-storey car park.
Cunningham family
Edit
Andersen/Osborne family
Edit
Other characters
Edit
Cast Changes
Edit
See also: Category:1996 debuts.
None
Departures
Edit
See also: Category:1996 departures.
See also: Category:1996 episodes.
This section is currently missing. You can help the Hollyoaks Wiki by adding it.
Community content is available under
CC-BY-SA
unless otherwise noted.